Battling for bucks
More than 40 aspiring startups came to Houston to compete for the cash needed to pursue their entrepreneurial visions.
Photos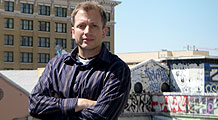 Photos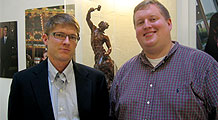 HOUSTON (CNNMoney.com) -- The weather outside was gray, rainy and muggy - an apt metaphor for the economic malaise that has made this the toughest time in years to start or run a business. But inside Rice University's Jones Graduate School of Management this past weekend, the lecture halls buzzed with energy from hundreds of aspiring entrepreneurs gathered together for an intense three-day challenge. At stake: $800,000 in cash and prizes, and the chance to launch a new business amid the worst economic crisis since the Great Depression.
The Rice Business Plan Competition is the richest and largest contest of its kind, with some 200 venture capitalists, attorneys and business advisors brought in to judge fledgling ventures. For MBA, engineering and medical students with entrepreneurial ambitions, hitting the competition circuit can become a routine part of the startup process. There are hundreds of contests held each year, with some of the best-known, like those run by Harvard, MIT and the University of Michigan, awarding six-figure sums to the winners.
But Rice's contest stands out for the value of its prizes and the depth of its competitive field. This year, more than 300 entrants vied for one of the 42 competition spots. Teams from six countries gathered in Houston, armed with PowerPoint presentations, rehearsed pitches, and a desperate desire to impress the contest's judges and potential investors.
"This competition invigorates me," said judge Rod Canion, co-founder and former CEO of Compaq. "We're going through a depressing time, and all this energy makes me think that things aren't all that bad."
On the first evening of the competition, after a showcase fair that gives the teams their first face time with judges, one representative of each startup participates in an elevator-pitch pitch competition. The name reflects the length of time it would take to make a business pitch if you found yourself in an elevator with a venture capitalist.
In just 60 rapid-fire seconds, they outline their business concept, what problem they can solve, how much capital they need and how they'd spend it. The pitches are intended to give everyone at the competition an overview of the teams, though Rice also awards prizes for them - the team judged to have the best pitch takes home $1,000.
"The elevator pitch is nerve-wracking," said Aaron Nelson, co-founder of Audiallo, a University of Michigan team with a concept for improving hearing aids. "I got it over at the beginning and was then waiting, watching the other teams go, thinking that I really had no sense of how I did."
The next day, the teams divide into seven industry-themed groups, including a new category this year for socially minded (but still for-profit) ventures. With 15 minutes and a PowerPoint deck, they elaborate on the points outlined in their elevator pitch. Then comes the hard part: Fielding the judges' questions.
"You've presented us with a 25-year-old technology. Why will you be successful when everyone else with lots of money hasn't been able to do it?" Jerry Cobbs, managing director of Singnet Healthcare Partners, asked a company that is developing a new cancer treatment. "I don't believe what you're putting out there."
"What's going on in year three on your balance sheet?" added Linda Spain, a Houston business consultant. "And what is your model for pricing and selling? I think you need to see an accountant."
Judges score the teams based on their impression of the venture's market opportunity, competitive advantage, management capability, financial understanding, investment potential and presentation. While the scores are being tallied, each team gets 30 minutes of feedback - in a much more relaxed atmosphere.
"You guys were standing too far back. Walk forward. You'll engage people more," one judge advised a team in the energy group. "Who in your team is in sales?" another judge asked the team. "Never underestimate how hard it is to get a good salesman."
"This by far has been best feedback we received," said Carlos Kemeny of Purdue University, whose company, Si Metal, has developed a low-cost LED light to rival incandescent bulbs. Kemeny is a business plan competition veteran: Rice is Si Metal's fifth contest this year. "We now have roadmap - we have priority one and priority two, and that's the best thing for us," he said.
The judges like the face time, too. "This is the biggest networking opportunity," said May Akrawi, consul for science and innovation for the British Consulate General in Houston. "It's three days when you really get to know people who are answering some of the biggest questions posed by our generation."
At Rice, the top team from each of the industry groupings advances to a finals round to vie for the big prizes - except for the social ventures group, which competes for a separate prize. The teams that came in second in each group go head-to-head in a wildcard round, with the winner of that also competing in the finals.
On the last night, a crowd of nearly 1,000 people assembled in a banquet hall to hear the announcement of the winners. In addition to cash prizes for the finalists - from $3,000 for the seventh place team on up to $20,000 for the grand prize winner - 65 additional prizes are bestowed, including cash awards for marketing prowess, engineering innovation, and environmental friendliness. For a look at the top 7 teams, see our profiles of the winners.
It's a harsh time to try to start a company, but those who vetted this year's field are optimistic about their chances. "I believe the top seven teams have a high probability of being successful if they stick with it," said Canion, the Compaq co-founder. Of the 36 teams that competed last year at Rice, 29 are still in business. Since 2001, 85 aspiring Rice competition teams have launched and collectively raised $145.5 million in capital. (For a look at some of the success stories, see "7 business plan superstars.")
What's in store for next year? Brad Burke, director of the Rice Alliance for Technology and Entrepreneurship, says his organization hopes to cross the $1 million threshold for cash and prizes. But if you want a slice of it, start honing your business plan now: Burke warns that the quality of the contestants has gone up every year, and he anticipates that 2010 will be no exception.

To write a note to the editor about this article,
click here
.