Time running out on Chrysler
The embattled automaker has one week to reach deals with Fiat, unions and banks, raising doubts it can avoid bankruptcy and a shutdown.
Photos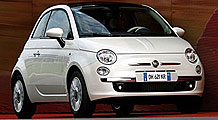 NEW YORK (CNNMoney.com) -- Chrysler LLC faces the most difficult, and important, week in its 84-year history as the automaker tries to close three difficult deals in order to avoid bankruptcy.
The automaker has until Thursday, April 30, to reach a deal on an alliance with Italian automaker Fiat, convince banks holding $7 billion of its secure debt to accept pennies on the dollar and win additional wage and pension concessions from its unions.
The challenge is that all three parties negotiating with Chrysler will want to see terms of the other deals before they agree to their own deal. That's because Fiat, banks and the unions will all likely end up owning a stake in the troubled automaker. The value of those stakes depend upon how much equity each party receives, and what Chrysler's chances of avoiding bankruptcy are.
Failure to reach a deal is likely to put the company on the path towards closure and the sale of its assets. The Treasury Department's auto industry task force has declared that Chrysler is no longer viable as a stand-alone company and gave it only a month to reach a final deal with Fiat that would give the government enough confidence to extend Chrysler $6 billion more in loans.
Chrysler won't comment directly on its negotiations and its chances to avoid bankruptcy. The company simply said in a statement that it is "committed to working closely with all constituents, the administration, U.S. Treasury and the Task Force to reach a successful conclusion."
But if deals with Fiat, banks and unions aren't in place by the end of the month, the chances of Chrysler getting another federal lifeline are remote, leaving the company little choice but to begin a process of shutting down.
"We wouldn't see it being lights out day one," said Robert Schulz, senior auto credit analyst with Standard & Poor's. "But if it goes into bankruptcy, we wouldn't expect a reorganization and emergence from bankruptcy. We expect them to be broken up, with some parts sold, some parts closed."
Other auto industry experts say they are becoming increasing pessimistic about Chrysler's chance to reach the deals necessary and avoid bankruptcy.
Mike Jackson, CEO of AutoNation (AN, Fortune 500), the nation's largest car dealer, told CNNMoney.com Thursday that he was no longer confident about Chrysler's chance for survival.
In the past, Jackson was worried about a catastrophic hit to the economy if a major automaker went bankrupt, but he said that his conversations with the auto industry task force has convinced him that plans are now in place for an orderly shutdown at Chrysler. (Chrysler rival General Motors (GM, Fortune 500) still faces a May 30 government deadline to restructure or it too could be forced into bankruptcy.)
Independent auto consultant Erich Merkle said that when Treasury and President Obama announced the deadline for Chrysler back on March 30, he thought that there was a bit better than a 50-50 chance of avoiding bankruptcy. Now he puts the chance at no greater than 25%, and perhaps not that good.
"Then it seemed like an alliance with Fiat was imminent," he said. "But I don't think that alliance is there any longer."
Fiat executives said Thursday morning that talks are continuing with Chrysler and the U.S. Treasury Department, and reiterated that even if there is a deal, Fiat would not make a cash investment in Chrysler or commit to covering Chrysler's anticipated future losses. Fiat reported its own quarterly loss Thursday.
The New York Times reported Thursday that a deal had been reached between Treasury and the United Auto Workers union that would give the company the cost cuts it needs while protecting the remaining pay and benefits of the U.S. autoworkers. That could pave the way for a bankruptcy filing.
The UAW had no immediate comment on the report.
In a statement, Chrysler said that the company believes "it's important to keep all options open" and that Chrysler "will continue to work through the end of the month, based on the direction given by the Presidential Auto Task Force, to secure the support of the necessary stakeholders and reach a successful conclusion that the Administration and U.S. Treasury deems appropriate."
And an administration official said that "everything is speculation until there's a deal" but added that "it should surprise no one that the administration is planning on contingencies."
"We remain focused on the goal and engaged with all stakeholders to bring Chrysler and Fiat to a working partnership," the official added.
One of the tougher parties to convince could be the nation's major banks, such as JPMorgan Chase (JPM, Fortune 500) and Citigroup (C, Fortune 500), to accept only pennies on the debt they are now owed.
Numerous published reports suggest that Chrysler's banks and the auto industry task force, which is involved in the negotiation on restructuring debt, are about $3 billion apart, with the banks demanding 65 cents on the dollar for the debt they hold, plus a 40% stake on the automaker. The auto task force is offering 22 cents on the dollar, plus a 5% stake.
University of Maryland Professor Peter Morici said the banks are smart to turn down the latest offer, even if it's up from the earlier offer of 15 cents on the dollar. He said they can hope to capture far more than 22 cents once Chrysler's assets, particularly its Jeep brand and some of its more efficient factories, are sold.
"I don't' know exactly what those assets are worth, but I know it's a lot more than 22 cents," he said. "That's why they're being so tough."
S&P estimates that lenders are likely to see between 30 cents and 50 cents on their $7 billion in secure debt, if Chrysler does not get financing to continue to operate during bankruptcy. But if Chrysler files for bankruptcy and receives that funding from either the private sector or the government, the new loans could leave the current lenders with almost nothing to recover.
"We'd say it's a high probability event that they don't reach an agreement, but we won't put at percentage on it," said Schulz. He said while there is still time left to reach all three deals, it's becoming increasingly difficult to complete all of them in time.
"They all are complex, and two out of three won't do it," he said.
CNNMoney.com senior writer Jennifer Liberto contributed to this report

Features

These Fortune 100 employers have at least 350 openings each. What are they looking for in a new hire? More

It would be the world's second-biggest economy. See how big companies' sales stack up against GDP over the past decade. More