Bailout cop: More disclosure now
Inspector General Neil Barofsky discusses with lawmakers how TARP could be abused by fraudsters.
Bailout tracker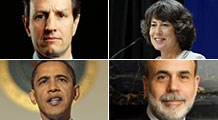 The government is engaged in a far-reaching - and expensive - effort to rescue the economy. Here's how you can keep tabs on the bailouts.
More
WASHINGTON (CNNMoney.com) -- The Treasury Department must make public more information about how banks and other companies are spending money received under the $700 billion bailout, a program overseer told Congress on Thursday.
Neil Barofsky, the special inspector general overseeing the Troubled Asset Relief Program, testified before the Joint Economic Committee about a 250-page report he issued earlier this week detailing his concerns about the government's management of TARP.
"We stand alone as the criminal law enforcement body," Barofsky said. "We take that role very seriously."
Barofsky said his top concern was that Treasury continues to ignore his suggestion that TARP bailout recipients state exactly how they're using their money. He said that two banks, Bank of America (BAC, Fortune 500) and Citigroup (C, Fortune 500), have made efforts toward such disclosure, but "otherwise it hasn't come to pass."
Further, Barofsky said, when Treasury released more bailout money to troubled insurer American International Group (AIG, Fortune 500) this month, neither the company nor the government would say what it would be spent on.
"Once again what we believe what is a basic concept of oversight ... was left out," he said.
However, the Treasury Department has plans to require bailout recipients to "more robustly report" their use of government dollars by submitting a blueprint for intended use of capital and what kind of lending was made available, according to a Treasury source.
Barofsky said he was pleased that Treasury announced on Wednesday that it had hired three new asset managers, a move that his group thought was "very important." His report earlier this week had warned that Treasury needed a team to look into the value of assets.
The report, which was released on Monday, offered a close inside look at the government's handling of the bailout. It revealed that Barofsky's office had 20 criminal investigations and six audits into whether tax dollars are being pilfered or wasted.
Barofsky said that a third of the criminal investigations have come as tips from an agency hotline. He said a big goal of his work is "deterrence" to prevent future fraud.
"The second report is even more critical than the first, in part because the TARP has become such a complex series of programs," said the committee's chairwoman, Rep. Carolyn Maloney, D-N.Y.
Rep. Kevin Brady, R- Texas, said he found the Barofsky report "disturbing."
Barofsky noted that he traveled to Tennessee on Wednesday to highlight the first criminal charges filed so far for a TARP-related crime. The case was brought against a man who was selling what he called "TARP-backed" bonds, which do not exist.
Another investigation Barofsky said he is pursuing involves end-of-the-year bonuses Merrill Lynch handed out as the struggling company was being taken over by Bank of America with the government's help.
Barofsky has previously said another of his investigations, done in conjunction with New York Attorney General Andrew Cuomo, is probing into bonuses paid to AIG employees who work in the unit responsible for the company's demise.

Features

These Fortune 100 employers have at least 350 openings each. What are they looking for in a new hire? More

It would be the world's second-biggest economy. See how big companies' sales stack up against GDP over the past decade. More