Dire straits for state budgets
States like California have used fiscal triage this year: service cuts, fee hikes and federal aid. But they still must close a combined $95 billion gap by July.
Map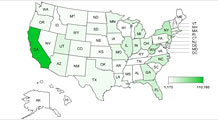 NEW YORK (CNNMoney.com) -- Even as they await billions in federal stimulus funds, states are racing to close a combined $95 billion budget hole in the coming weeks, according to a report released Thursday.
Governors and lawmakers, hammered by plummeting tax revenues caused by the worst recession in decades, have already slashed spending and raised fees to address a combined shortfall that exceeded $100 billion this fiscal year, the National Conference of State Legislatures reported.
But states must still eliminate a $27.6 billion hole before their fiscal year ends, which for 46 of them is June 30. State law requires they maintain balanced budgets.
On top of that, they must slash $67.5 billion from their fiscal year 2010 budgets before July 1. The gap had been as high as $121 billion, but states have already taken steps to narrow it.
Deep cuts needed
To do this, states have made widespread cuts in funding for education, social services, health care and public safety. The measures have resulted in teachers and police officers losing their jobs, the poor and elderly losing benefits and public colleges losing state aid.
"We're getting to the point where budget cuts are getting so deep that fundamental and priority state services are being affected," said Corina Eckl, who authored the report.
State legislators are not mincing words when it comes to describing their fiscal situation.
"For many states, the current revenue situation is nearly unprecedented, at least in recent years," the report said. "As one official noted, 'This is the most dire fiscal situation in the state's recent history.' "
In North Carolina, for instance, officials are working to close a gap of about 18% of the state's $21 billion budget for the coming year. Right now, they are debating whether to cut personnel selectively or across the board, one of many "painful cuts" the state will have to make, said Joe Hackney, speaker of the House and president of the legislatures' group.
This comes on top of pullbacks to balance the current fiscal year's budget, which at one point had a $2.2 billion shortfall.
"Services were affected in almost every area," Hackney said.
Without the $787 billion stimulus package enacted by President Obama in February, the situation would be even worse, the report said. But the federal funds will only go so far, closing about 40% of the budget gaps, according to estimates.
So far, only $14.5 billion from the American Recovery and Reinvestment Act has hit the streets, nearly all of it to help states shoulder their growing Medicaid burden, a White House spokeswoman said Wednesday.
Tax revenue plummets
The deepening recession has taken a harsh toll on the states. As unemployment soars and people cut back on spending, state income tax and sales tax revenues drop. These revenue streams are coming in below the latest forecasts in 20 states and Puerto Rico.
Corporate tax revenue, which is also shriveling as businesses struggle, is off target in 18 states.
Some 32 states and Puerto Rico face fiscal year 2010 gaps greater than 10% of their budgets; for 11 states the gap is larger than 20%. Only Arkansas, Missouri, North Dakota and Wyoming report that they do not expect a budget shortfall.
The situation has grown so difficult that some states are looking at raising taxes, a step they are loathe to take, especially in a recession, Eckl said. Until now, officials have relied mainly on raising fees for items such as motor vehicle registration or state park admission.
Several states, including Arizona and Massachusetts, are looking at raising the sales tax, a step California already did on a temporary basis. Other states, such as New Jersey and Wisconsin, are looking at hiking income taxes on wealthier residents. And a handful, including Florida and Illinois, are considering raising corporate taxes.
Things aren't going to get better anytime soon, state officials say. The report paints a grim picture for the states for several years to come. The national economy usually recovers about 18 months before states see their revenues pick up. Many states will likely struggle to plug gaps throughout the next fiscal year and beyond.
"But the nightmare does not end there," the report said. "At least 31 states and Puerto Rico have already forecasted budget gaps in [fiscal year] 2011, with the initial estimate at $44.5 billion."

Features

These Fortune 100 employers have at least 350 openings each. What are they looking for in a new hire? More

It would be the world's second-biggest economy. See how big companies' sales stack up against GDP over the past decade. More