GM goes for broke
As part of new plan, taxpayers and unions would own majority of automaker. Company unveils more cuts in jobs and dealers in bid to avoid bankruptcy.
Obama's First 100 Days
You elected them... now grade them along with CNN's best political team! Rate the president, Congress and your state leaders in
CNN's National Report Card
Wednesday, April 29th, at 7 p.m. ET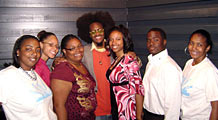 The young people of Motown have a tough choice: Go where the jobs take them or stick around Detroit and tough it out.
NEW YORK (CNNMoney.com) -- General Motors announced plans Monday to cut 23,000 U.S. jobs by 2011, drop its storied Pontiac brand and slash 40% of its dealer network in its latest bid to stay out of bankruptcy.
The new restructuring proposal will leave the Treasury Department, and thus U.S. taxpayers, owning a significant stake in GM. Treasury would accept GM stock, rather than cash, for repayment of about $10 billion that the government has already lent to GM.
Trust funds controlled by the United Auto Workers union would also hold a significant stake in the company. Between them, Treasury and the unions would own 89% of GM.
GM also announced an offer to its bondholders to swap $24 billion of the company's $27 billion in unsecured debt for stock. GM is offering bondholders 225 shares of its stock for every $1,000 it owes the bondholders in principal.
GM CEO Fritz Henderson warned in a press conference Monday that a bankruptcy is still very likely unless bondholders agree to the swap.
"It's not impossible but it's a tough task," Henderson said about the company's ability to get enough bondholders to accept the company's stock. "That's why I think [bankruptcy] is more probable."
And in a statement released late Monday afternoon, advisors to an ad hoc committee of GM bondholders expressed dissatisfaction with the proposal, dubbing it "neither reasonable nor adequate."
"We are deeply concerned with today's decision by GM and the auto task force to offer only a small, inequitable percentage of stock to its bondholders in exchange for their bonds," the statement read. "We believe the offer to be a blatant disregard of fairness for the bondholders who have funded this company and amounts to using taxpayer money to show political favoritism of one creditor over another."
The moves are GM's latest efforts to cut costs and stem losses that have dogged its North American auto operations since 2005. But Monday's restructuring announcement goes much further than the viability plan GM unveiled to President Obama's auto industry task force in February.
The company had announced many of the job cuts in February, but Monday's news that GM would have about 38,000 hourly U.S. employees by 2011 represents an additional reduction of 7,000 to 8,000 jobs beyond what GM disclosed in its previous viability plan.
The job cuts come as GM is set to announce the closing of more plants in the next few weeks. Henderson would not comment on which plants could be on the chopping block.
The company said its goal is to cut costs to the level where GM can break even even with industrywide U.S. sales of only 10 million vehicles, rather than the 11.5 million to 12 million sales range that had been its previous break-even target. Henderson added he's hoping that the company could be profitable as soon as 2010 under the new restructuring plan.
While the cuts will leave GM a much smaller company, Henderson said this does not concern him. He admitted that results at GM have not been acceptable for quite some time.
"I'm much more focused on getting results than being big," he said.
GM also confirmed reports that surfaced Friday and officially announced plans to drop its Pontiac brand altogether. In its earlier restructuring plan, GM had signaled that Pontiac would survive, albeit as a niche offering.
The company also said it would make more cuts to its dealership network than it announced in February, and at a much faster pace. GM said Monday it will cut the number of its dealers by 42% to 3,605 by 2010, up from its original plan to reduce its network to 4,100 dealers by 2014.
Bankruptcy still possible
The Obama administration's task force, which found that GM's February turnaround plan was not viable, said Monday that the new plan "reflects the work GM has done since March 30 to chart a new path to financial viability." But the task force added that it "has made no final decision regarding the treatment of its current loan to GM or with respect to any future investments in the company."
The administration has given GM only until the end of May to reach deals with creditors and unions to cut costs or be forced into bankruptcy. But the Treasury Department did extended GM an additional $2 billion in loans last week, bringing its total federal assistance to $15.4 billion.
Even before it reaches the government's May 31 deadline to reach an agreement with bondholders and unions, GM will need additional loans from the Treasury in order to continue to pay its bills, Henderson said Monday.
Details of those loans have not yet been worked out. The company has said it could need as much as $30 billion in federal help to weather its current financial crisis, and Henderson said Monday that request should still be sufficient.
The United Auto Workers union was not available for immediate comment on Monday's announcements.
GM will still need to convince bondholders to take the deal and win further labor concessions from the union if it is to stay out of bankruptcy. The union announced a tentative deal with Chrysler LLC late Sunday in an effort to help that company meet an April 30 deadline to avoid its own bankruptcy filing.
If the GM bondholders take the offer, they will end up owning about 10% of GM. But they will be accepting stock worth only $380, based on Friday's closing price, for every $1,000 they are now owed on the bonds.
By accepting the offer, bondholders would be betting that the company's stock would rise in the future, and that the alternative of bankruptcy could result in them getting even a smaller percentage of what they are owed.
But taking the deal will still be risky. Even unsecured bondholders can hope to be paid something back on their bonds if the company is forced into bankruptcy at some point in the future, while stockholders are likely to be wiped out altogether.
If all parties agree to the new restructuring plan and bankruptcy is avoided, current shareholders will be left owning as little as 1% of GM's outstanding shares.
Still, shares of GM (GM, Fortune 500), a component of the Dow Jones industrial average, gained more than 30% in late morning trading due to hopes that the company may now be able to stay out of bankruptcy.

Features

These Fortune 100 employers have at least 350 openings each. What are they looking for in a new hire? More

It would be the world's second-biggest economy. See how big companies' sales stack up against GDP over the past decade. More