Too little, too late for GM and Chrysler
Last-ditch restructuring plans may not be enough to make GM and Chrysler viable for the long haul - even if it keeps them from bankruptcy in the short-term.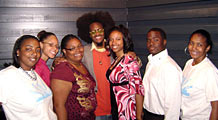 The young people of Motown have a tough choice: Go where the jobs take them or stick around Detroit and tough it out.
NEW YORK (CNNMoney.com) -- With bankruptcy looming at General Motors and Chrysler LLC, both troubled automakers have announced new moves to try and avoid that fate.
But even if the companies are able to stay out of bankruptcy in the near-term, several experts believe it may be too little too late to save both companies for the long-haul.
GM proposed Monday to cut more brands, plants and workers, and eliminate $44 billion in debt and other obligations by issuing a sizeable amount of additional stock to pay off creditors, the government and union trust funds.
The company is hoping to reach an agreement with those three parties on this new plan by the end of May or it could be forced into bankruptcy.
Late Sunday, Chrysler announced a tentative labor deal with the United Auto Workers union that it says meets the goals set out by the Treasury Department to turn around the company.
But Chrysler must still reach deals with Italian automaker Fiat on an alliance and get its own creditors to agree to take pennies on the dollar for the $7 billion in secured loans they have made to the company. And it has until only this Thursday to get all three deals in place.
The new plans from GM (GM, Fortune 500) and Chrysler are far more ambitious than earlier turnaround proposals. Still, even if these latest developments will keep them from bankruptcy, there are doubts about the long-term viability of both companies.
Bob Shulz, Standard & Poor's senior auto credit analyst, said even if both companies get past the deadlines bearing down on them and steer clear of bankruptcy, that doesn't mean they will be able to avoid bankruptcy indefinitely.
"We don't view the government support as open ended," he said.
Others pointed out that there are deeper problems at both companies that aren't necessarily solved by the newest restructuring plans.
"You have to become a better car maker than the competition and you haven't done that in a very long time," said Kevin Tynan, auto analyst at Argus Research. "Does any of this guarantee market share stability? No. Does it mean that you finally get it in terms of what your customers want? No."
Another analyst pointed out that much of GM's and Chrysler's survival chances depend on a rebound in the overall economy, and for it to happen sooner rather than later.
"So much of this is outside their control," said Shelly Lombard, auto industry analyst for debt research firm Gimme Credit. "You can restructure, restructure, restructure, but if auto sales don't rebound, then unless you have zero debt, they're not going to survive."
And David Cole, chairman of the Center for Automotive Research, a Michigan think tank, said there is a risk that the cutback plans could actually go too far, leaving the companies unable to enjoy the full benefits of a turnaround once demand for autos eventually rebound.
"If you do too much, you gut your ability to perform later on," he said. "That's a real possibility."
Still, there are some who believe that both companies will be able to survive. If sales improve enough in the near-term, the changes GM and Chrysler are planning to make could allow both companies to be profitable relatively soon.
The long overdue cost cutting and focus on fewer brands could also help both companies regain some of the ground they lost against competitors as well.
"I think a lot of these changes are coming later than they should have," said Lincoln Merrihew, head of the automotive group at market research firm TNS North America. "But is it too late? I don't think so."

Features

These Fortune 100 employers have at least 350 openings each. What are they looking for in a new hire? More

It would be the world's second-biggest economy. See how big companies' sales stack up against GDP over the past decade. More