72% would buy an American car - poll
Study shows 55% of U.S. consumers plan to buy a car in the next two years, with majority considering domestic models.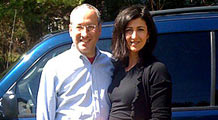 From a 1997 Mercury Cougar to a 2009 Honda Pilot, 8 readers tell us why they decided to buy a new car or keep their old wheels.
Find your next Car

NEW YORK (CNNMoney.com) -- Nearly three-quarters, or 72%, of consumers say they would buy an American-made car or truck despite GM's and Chrysler's woes, according to a new survey.
R.L. Polk & Co. said that 55% of the 1,361 consumers it polled said they plan to buy their next vehicle within the next two years, which could bode well for the struggling automakers.
"With all the doom and gloom in the U.S. auto industry, it's encouraging that consumers are indicating that they plan to buy a vehicle in the relative near term," said Lonnie Miller, Polk's director of industry analysis.
However, the outlook for the auto industry remains grim, especially given historically low levels of consumer confidence, said Miller.
"When it comes to the car buying decision, that's a big moment of truth," he said. And consumers are often hesitant to take the plunge for fear "it will come back and bite them."
To that end, the study showed that consumers are holding onto their cars longer, with 64% saying they were "extremely or very likely" to keep their vehicle longer than they would otherwise.
That doesn't mean consumers won't buy a second car or truck but 77% of consumers polled said they were "somewhat likely" to consider a used vehicle, rather than a new one.
In fact, almost half of those surveyed, or 47%, think economic conditions will worsen in the next year, and 52% don't expect their family's financial situation to change over the next 12 months.
As consumers cut back on spending to cope with the weak economy, auto sales have plunged to levels not seen in three decades.
That has pushed General Motors (GM, Fortune 500) and Chrysler LLC., two of the nation's biggest automakers, to the verge of bankruptcy. Both companies are being kept afloat with billions of dollars in federal loans.
Chrysler could face bankruptcy Thursday if it fails to secure concessions from the United Auto Workers, and its creditors. Chrysler has won some union concessions but the rank and file still need to vote. On Tuesday, the major banks that loaned Chrysler about $7 billion agreed to significantly reduce that debt, according to the Treasury Department. The automaker is also working to form a partnership with Italian automaker Fiat.
GM proposed Monday to cut more brands, plants and workers, and eliminate $44 billion in debt and other obligations by issuing a sizeable amount of additional stock to pay off creditors, the government and union trust funds.
Consumers were split about whether or not the government should be intervening: 61% said they "disagree or strongly disagree" with government loans to automakers, while 59% think allowing any automaker to go into bankruptcy would be a "major blow to the economy."
Polk conducted the nationwide online study of 1,361 adult car and truck owners during February and March 2009, with a margin of error of +/- 2.9%.

Features

These Fortune 100 employers have at least 350 openings each. What are they looking for in a new hire? More

It would be the world's second-biggest economy. See how big companies' sales stack up against GDP over the past decade. More