AIG: Doomed to fail?
As the bailed-out insurer moves to sell off its assets to repay the government, experts say the company will have a hard time surviving as a scaled-down life insurer.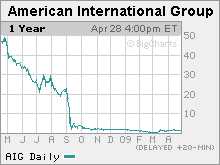 Bailout tracker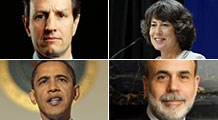 The government is engaged in a far-reaching - and expensive - effort to rescue the economy. Here's how you can keep tabs on the bailouts.
More
Obama's plan so far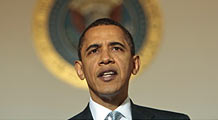 President embarks on wide-ranging initiatives to stem downturn and financial crisis.
More
NEW YORK (CNNMoney.com) -- Once a titan in the insurance world, AIG is a shadow of its former self, and experts say the company is likely doomed for failure.
That's partly because AIG (AIG, Fortune 500) is slowly getting rid of its strong, moneymaking businesses as it attempts to pay back the roughly $130 billion it has borrowed on its $182 billion government bailout.
The company had to give up more than it had anticipated to pay back taxpayers because of the horrid credit environment, and analysts believe AIG may be giving up too much for it to survive on its own. Not that there was much choice.
"The plan has been, since the first days of the bailout, to sell off the crown jewels including its investment arm and very strong insurance units, because that's all the market will accept now," said Julie Grandstaff, managing director of StanCorp Investment Advisers. "It was the only way to save the organization, but it's questionable if there will be a freestanding AIG in the end."
What AIG is losing: On March 2, AIG transferred its property and casualty businesses into a new, separate company called AIU Holdings. AIG did the same with its AIA Asian life insurance business and ALICO foreign life insurance unit.
The government will eventually take a stake in AIA and ALICO, and on April 22, AIG began the process of selling off a minority stake in AIU to investors. Eventually, all three companies will have their own boards, management and could even trade on the stock market separately from AIG.
AIG has also attempted to sell off many of its other subsidiaries, but those purchases have been small in number and value. The largest of the 10 sold-off units was AIG's car insurance unit, which the company earlier this month announced it would sell for $1.9 billion. The next largest unit was its Hartford Steam Boiler unit, which fetched $745 million.
While that's not chump change, it pales in comparison to the more than $60 billion the company took in from its healthiest insurance units last year.
In addition to its asset sales, AIG continues to wind down its financial products division (FP), which was at the root of the company's meltdown.
Though the company's core insurance businesses had been stable and profitable, the AIG-FP business model was built on a house of cards. That unit wrote credit-default swaps -- essentially insurance contracts -- on complex derivatives that had a danger of losing value in the event of a steep drop in the housing market.
That business began to collapse in the summer of 2007, when the U.S. housing market began to deteriorate, and clients asked AIG to post more and more collateral to back the insurance contracts on the devalued assets, such as mortgage-backed securities.
What's left: Without AIA, ALICO, AIU, FP and a number of its subsidiaries, all that will remain of the parent company is AIG's domestic life insurance and retirement company, along with a handful of subsidiaries.
"In today's environment, the only thing that will sell are self-supporting entities," said Stewart Johnson, portfolio manager at Philo Smith & Co. "Those that AIG is having difficulty selling, there's a reason for that. But if they can only sell things that stand on their own, what are they left with?"
In addition to the small number of businesses it directly controls, AIG will maintain a majority stake in its three spin offs. Though AIG could eventually part ways completely with those companies, a spokeswoman for the insurer said the parent company needs to hang onto the stakes for now.
In order to maintain its credit rating and obligations to its bondholders, AIG needs a certain level of income that might not be achievable if it simply severed ties with AIA, ALICO and AIU immediately.
An AIG spokeswoman declined to comment on possible outcomes for the parent company once its restructuring is fully in place, only acknowledging that the AIG brand will likely be replaced.
"The absolute plan is to sell AIG's healthy companies to pay off the government," she said. "That's our focus right now."
Slim chance of survival: The insurance companies that AIG has already gotten rid of and others that it hopes to sell off are solid moneymakers, in contrast with what AIG will have left after its restructuring is complete.
The companies that the insurer transferred to AIU alone wrote $36 billion in premiums in 2008, and recorded $44.7 billion in revenue last year. ALICO and AIA wrote about $29.9 billion in premiums combined and took in $20.1 billion in sales in 2008.
But the domestic life and retirement insurance companies, which would remain in AIG after its restructuring, wrote about $7 billion in premiums and took in $15 billion in revenue last year. That's about a quarter of the revenue and a tenth of the premiums of the companies with which AIG is parting ways.
Johnson said a stripped-down AIG will face pressures from many different sources, including higher credit costs. One of the reasons why AIG functioned so well in its heyday was because of its sheer size. But as AIG loses revenue analysts believe the company's credit rating will slip and its cost of borrowing will increase, cutting into the insurer's profitability.
AIG will also get hammered as customers and employees continue to head for the exits, Johnson said. Anxious customers are opting for insurers who can offer more security and top talent have been getting better offers from other companies.
"As AIG sells its business units, it's left with an adverse selection of customers, employees and businesses," Johnson said. "If you ask me if AIG will be able to survive, I'd have to say no."

Features

These Fortune 100 employers have at least 350 openings each. What are they looking for in a new hire? More

It would be the world's second-biggest economy. See how big companies' sales stack up against GDP over the past decade. More