GM cuts: Coming to a town near you
Location, car models, and union deals are all factors General Motors will consider as it decides where its 23,000 layoffs will be made.
Obama's First 100 Days
You elected them... now grade them along with CNN's best political team! Rate the president, Congress and your state leaders in
CNN's National Report Card
Wednesday, April 29th, at 7 p.m. ET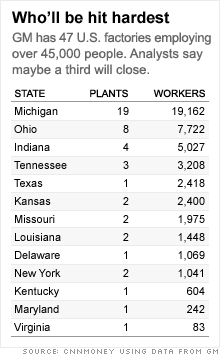 Photos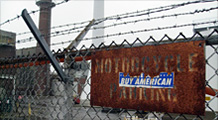 NEW YORK (CNNMoney.com) -- Saying they'll cut costs is the easy part. Now, in order to stave off bankruptcy, comes the hard part: General Motors must axe 23,000 people and decide which plants to keep open, and which to permanently shut down.
The company probably still doesn't know which factories it will close, analysts say. Over the next few weeks, GM execs will pour over numbers, charts and strategy as the government's end-of-May deadline for a viability plan approaches.
In the end, analysts say maybe a dozen factories will be shuttered, sending workers home for good in towns that often offer few other job opportunities.
While it's impossible to say for sure where those plants will be, here are some of the factors analysts say GM will consider in making these tough choices:
What they'll make: GM is still deciding the fate of many of its models. The plants that can make those models will fare better than those than can't.
We know for sure that Pontiac is dead, which may put plants that make Pontiacs in greater danger of closing. Those include a 1,069-worker facility in Wilmington, Del., as well as a joint venture with Toyota in California and a plant in Canada.
"I'd expect to see closures related to these vehicles," said Laura Marcero, an automobile consultant at the advisory firm Grant Thornton.
But the fate of these Pontiac plants isn't sealed. They all make more than just Pontiacs, and some can be retooled to make other things.
What plants can be easily retooled: Plants that can adapt to make a variety of products are more likely to stay open. Usually plants that have been recently modernized with the latest manufacturing equipment are the most adaptable.
Analysts warn though that just because a plant was modernized recently doesn't mean it's in the clear.
"They are just large buildings and the equipment can be moved around," said Lincoln Merrihew, an autos analyst at the market research firm TNS. "It's an expensive proposition, but in some cases it might make sense."
Where they are located: Automakers are likely to keep plants open that are close to their parts suppliers, which saves money on logistical costs analysts say.
This could spare factories along the I-75 corridor. I-75 runs from Northern Michigan through Detroit, Toledo and Dayton, and on down through Cincinnati, Lexington and Knoxville connecting many factories to their suppliers.
The highway ends in Miami but side-steps places like GM's 1448-worker plant in Shreveport, La., and its 2418-worker facility in Arlington, Texas, which may bode ill for workers there.
What unions will bargain: Despite popular opinion, unions don't all bargain the same.
Local unions can negotiate different contracts and that may determine which towns get to keep factories and which don't, said Merrihew.
Local union contracts can have differences in work rules, but not pay. That said, work rules can end up saving more money than changes in wages and benefits.
As for workers, he noted that like the factories themselves, those that are adaptable will probably be better off in the long run.
Eventually this recession will end and auto sales will improve. Even though GM is closing factories, "the market share is going to go up for someone, and someone still needs to build cars" he said. "The question for the worker is, can they move around? How flexible are they?"

Features

These Fortune 100 employers have at least 350 openings each. What are they looking for in a new hire? More

It would be the world's second-biggest economy. See how big companies' sales stack up against GDP over the past decade. More