Beat the recession, one penny at a time
Shoppers are turning to free grocery coupons and online codes to save money during the tough times.
Photos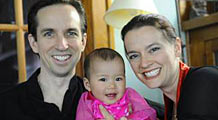 NEW YORK (CNNMoney.com) -- With the economy slowing and unemployment soaring, consumers are looking for ways to pinch pennies anywhere they can. One way to fight the recession: coupons.
Coupon usage is on the rise, particularly among younger consumers, according to a recent study by ICOM, a marketing research company based in Ontario. Almost 60% of respondents under the age of 35 reported using more coupons in the past six months.
Mary Heather Hanley is one of them. After being laid off from the technology company she was working for and losing money on a real estate investment, the 31-year-old found herself in a personal financial crisis and needed to downsize her lifestyle.
"I needed to be an active participant in my financial recovery," Hanley said. "I was able to actively save money and make my life easier by couponing."
She estimates that she and her boyfriend save around $70 per week on groceries and at restaurants, just by using coupons she finds in the paper and online.
"Essentially coupons are back on the radar of many consumers," said Matthew Tilley, Director of Marketing at Inmar, a company that manages and processes coupons."When times are tight, they realize that it's very possible to seek out the deals for themselves."
Coupon distributors aren't the only ones seeing an uptick in coupon traffic. Stephanie Nelson, "The Coupon Mom" runs a free site that helps people shop strategically to save money. Couponmom.com has had new membership jump from 100,000 per month a year ago, to more than 1.5 million per month in February.
"More advertisers are using coupons as a way to entice folks to buy," Nelson said. "So many people are interested in saving money this way because of what's happening with the economy."
Making coupons more discreet
Old-fashioned coupon-clipping still has a bad reputation. The ICOM study showed that despite the increase in usage, there is still a stigma surrounding the use of coupons. More that one in five polled reported being uncomfortable using coupons at checkout.
But while paper coupons were once viewed as an embarrassing badge of stinginess, new technologies like online coupon codes and club cards with automatic savings have pushed coupons into the mainstream.
Retailers are using technology to reach a wider audience. Online coupon companies like Coupons.com and CouponCabin.com have both noted a considerable increase in coupon printing and coupon code usage through their sites.
According to Coupons.com CEO Steven Boal, the online coupon distributor printed savings of $300 million last year. This year he predicts that those savings could reach upwards of $1 billion.
CouponCabin.com founder and CEO Scott Kluth says that consumers should expect more coupons available through various technologies like in-store kiosks and cell phones.
For example, AOL recently launched a site that allows people to load coupons onto their loyalty cards for Kroger stores. There's also a coupon app for Apple's iPhone that allows users to scan coupon codes from their phone.
"With technology we can forecast what you might want," says Kluth."If my cell phone is within three miles of a Starbucks, I am going to get a coupon for Starbucks. That's the future of couponing," he says.
Where the deals are
To many, the art of couponing can be intimidating. The good news is that retailers are looking to reach consumers at many points in the shopping experience. The real trick, say the pros, is to weed through the noise and get the deals you want and need. Here are some tips:
Know where to look. Pros like Teri Gault, CEO and founder of TheGroceryGame.com, a site that helps people figure how to maximize their savings, suggests that the best place to start collecting coupons is your local Sunday paper.
But you can also look online for printable coupons. While some are strictly for online use, a search for "printable coupons" will usually yield coupons good for in-store use.
Ask about frequent shopper cards in stores too. Some chains like Stop & Shop and CVS offer loyalty programs that generate coupons based on previous purchases.
Wait for the right time. CouponMom.com's Stephanie Nelson says that one of the biggest pitfalls that new coupon users can fall prey to is redeeming their coupons too quickly.
"Your strategy should be to wait until things are on sale and then use them. Also find out if you can double your coupons," she says.
Nelson says stores like Wal-Mart never allow customers to use more than one coupon at a time, but a retailer like ShopRite does.
Just don't wait too long - most coupons have an expiration date. While some stores will still accept an expired coupon, better to make sure you redeem it within the designated time frame.
Read the fine print. Before you get in line, make sure the coupon is accepted in stores and still valid. Also, retailers will usually not accept photocopies of coupons that appear in the paper.
Currently, much of the new coupon technology is still only available in limited areas, so be sure to check with your retailer to see what their restrictions on usage might be.

Features

These Fortune 100 employers have at least 350 openings each. What are they looking for in a new hire? More

It would be the world's second-biggest economy. See how big companies' sales stack up against GDP over the past decade. More