Stocks still set to advance
Futures continue to rise as report shows economic activity declined more than expected in the first quarter.
Obama's plan so far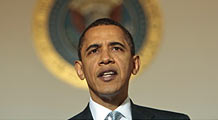 President embarks on wide-ranging initiatives to stem downturn and financial crisis.
More
NEW YORK (CNNMoney.com) -- U.S. stocks were set for a higher open Wednesday, after stock futures held their ground after a government reading of gross domestic product showed the economy contracted more than expected in the first quarter.
At 9:00 a.m. ET, Dow Jones industrial average, Standard & Poor's 500 and Nasdaq-100 futures were slightly higher.
Futures measure current index values against perceived future performance and offer an indication of how markets may open when trading begins in New York.
Economy: A reading on first-quarter gross domestic product showed the U.S. economy shrank at an annualized rate of 6.1%, much steeper than the 4.7% decline analysts expected, but still narrower than the 6.3% drop in the fourth quarter.
The drop was partially due to a huge decline in inventories. Consumer spending, however, contributed 1.5 percentage points to GDP, after subtracting 3 points from the previous quarter's reading.
"The number was much worse than expected, but consumer spending was a bright spot in there, and that's why market not reacting too negatively," said Peter Cardillo, chief market economist at Avalon Partners. "The run down in inventories may mean that the inventory correction over."
Fed: The Federal Reserve's two-day policy meeting ends Wednesday. The central bank's Federal Open Market Committee is expected to hold interest rates steady at historic levels near zero.
"The FOMC statement will be important, because they're not going to adjust their rate," said Cardillo. "Hopefully we'll get them to say something encouraging as the market continues to look forward."
Obama's First 100 Days: Investors will be evaluating President Obama's performance on the economy as he marks his 100th day in office.
Obama has pulled out many of the stops in his first three months in office, taking action on stimulus, banking, housing, the budget and taxes.
Banks: Worries about the results of the U.S. government's so-called stress tests on banks are likely to remain a focus for investors.
Results of Treasury's tests of the largest U.S. banks aren't due until next week, but early reports have suggested that some banks may need to boost their capital.
Separately, Citigroup (C, Fortune 500) is seeking approval from the Treasury Department to pay special bonuses to many of its key employees, according to a report in the Wall Street Journal.
Corporate results: The scores of companies reporting earnings before the bell reported mixed quarterly results.
Insurer Aetna (AET, Fortune 500) reported that revenue soared 11% in the first quarter on a 9% rise in subscribers, but net income remained relatively flat. Still, profit and sales beat Wall Street's forecasts.
Steelmaker Arcelor Mittal (MT) said its quarterly sales fell 50% from last year on a huge decline in global steel demand. The company missed analysts' estimates by a wide margin and said its production is running at about 50% capacity.
CNNMoney.com parent Time Warner (TWX, Fortune 500) reported profit from continuing operations was little changed, but results still managed to trounce analysts' expectations.
Mortgage applications: According to a weekly report from the Mortgage Bankers Association released Wednesday morning, applications for mortgages fell 18.1% last week from the previous week on a seasonally adjusted basis. Refinancing dropped 21.9%, and purchases of home fell 0.6%.
"The news from MBA is certainly disappointing, but people are really focused on GDP and the FOMC meeting today," Cardillo said.
World markets: Upbeat earnings helped boost global markets. Stocks in Asia finished the session mostly higher, although Japan's Nikkei lost ground. European markets were higher in morning trading.
Other markets: After falling for two straight sessions, oil rose 62 cents Wednesday morning to $50.54 a barrel.
At 10:30 a.m. ET, the Department of Energy will release its weekly U.S. crude oil and derivatives supply report. Analysts expect stockpiles of crude oil to have risen by 1.8 million barrels last week, according to a survey by Platts. Gasoline and distillate stocks are also forecasted to rise as demand for fuel remains anemic.
The dollar fell sharply against the euro and British pound but was up about 1% against the Japanese yen.

Features

These Fortune 100 employers have at least 350 openings each. What are they looking for in a new hire? More

It would be the world's second-biggest economy. See how big companies' sales stack up against GDP over the past decade. More