Auto industry woes extend beyond U.S.
Even if General Motors and Chrysler survive this current crisis, the comanies and the rest of the industry are still in for a slow, painful recovery.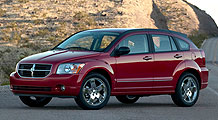 Chrysler was king of the hill with its 300 series just a few years ago. Oh how the mighty have fallen.
NEW YORK (CNNMoney.com) -- Chrysler and General Motors are making progress in their efforts to stay in business. But even if they succeed, don't assume that means the problems are over for the battered auto industry.
There is widespread agreement the industry is undergoing a deep, long-term downturn. Both successful and struggling automakers will continue to run up losses for some time. And that could lead to company failures, the disappearance of storied brands and forced mergers in the next few years.
"Everybody is worried sick," said David Cole, chairman of the Center for Automotive Research. "There's only one solution to this industry's problem, and that's an upturn in the market. The trick is living long enough until it does come back."
It now appears Chrysler and GM are going to live. Chrysler has won further concessions from the union and is close to a deal with Fiat for an alliance. President Obama said Wednesday evening that he is confident in Chrysler's chance of survival, even if it is forced into a bankruptcy filing.
GM has laid out a plan for further staff and cost cuts that won some positive comments from the president Wednesday, although it too may use a trip to bankruptcy to restructure its debt.
The global sales slump has been driven by a combination of the economic downturn and tight credit, neither of which has been limited to the United States.
Auto sales have continued to increase in some developing markets, such as China and India. But the sales are well below what analysts expected for these countries only a year or two ago.
The handful of developed markets showing improved sales, such as Germany, are being fueled by government programs that pay consumers to scrap their older vehicles and buy new cars.
But few markets have been hit as badly as the United States, which is still the largest and most important market for just about all global automakers. Sales in the first three months of the year are down 38% from a year ago.
Analysts are forecasting a decline of 30% for sales in April. Automakers will release those figures Friday. And as long as sales continue to fall in the U.S, it will make life difficult for even the healthier automakers.
Toyota Motor (TM), which finally captured the title of the world's largest automaker last year, is set to report its first annual net loss as a public company when it releases results for its just completed fiscal year May 8.
Toyota is running its newest U.S. plant, a pickup truck assembly line in San Antonio, at roughly half of capacity. It has also halted work on a Mississippi plant that was to build the hybrid Prius here for the first time.
Honda Motor (HMC) and Nissan (NSANY) have also seen sales decline by more than a third this year in the U.S, and both have had to scale back on production and trim the number of U.S. workers.
Ford Motor (F, Fortune 500), the only U.S. automaker not living off of government loans and facing a bankruptcy deadline, just reported a $1.4 billion loss in the first quarter.
While the company said it still believes it can complete its reorganization without federal help, some analysts suggest it may need to turn to Treasury for assistance by the end of the year if U.S. sales don't start showing significant improvement.
"Whether Ford's liquidity is adequate or not will depend on how low vehicle sales go this year and when they recover," wrote Shelly Lombard, credit analyst at research firm Gimme Credit Wednesday.
Analysts expect U.S. vehicle sales to be in a range of 10 million to 11 million vehicles this year, the lowest level in more than two decades and down from 13.2 million vehicles sold last year.
Part of the problem is that many automakers started to produce vehicles with the assumption that the new floor for sales would be about 16 million U.S. vehicle sales annually. That level was reached for the first time in 1999 and then matched or topped each year through 2007.
Now, most analysts think it will be at least four years -- and perhaps as many as 10 years -- before sales hit that level again.
That kind of slow recovery is not unique to the U.S. market. Auto industry consultant CSM Worldwide estimates that global sales fell 6% last year to 61.2 million from a record 65 million in 2007. Sales are forecast to plunge an additional 16% this year and not return to 2007 levels until at least 2012.
"This is a five-year recovery, at least," said Michael Robinet, head of global vehicle forecasts for CSM.
Robinet said the one certainty in the coming year is further consolidation among the global automakers. That will include struggling manufacturers either joining with healthier rivals, as Chrysler is looking to do with Italian automaker Fiat, or some of the smaller players just going out of business altogether.
Automakers will also need to thin out their lineup of smaller brands, as GM is looking to do with Pontiac, Saturn and Hummer, in an effort to spread development costs over larger brands with a broader global reach.
Governments around the globe may compound the industry's problems by pumping tens of billions of additional dollars into automakers to keep them alive through the prolonged slump, according to experts.
That might only lead to lingering woes for the industry longer term, though, as it will keep companies from shedding the excess capacity that is hurting pricing and profits.
"Every country feels it's not a major economic power unless it has its own automotive industry, so the industry is heavily subsidized and thus over-expanded," said University of Maryland professor Peter Morici.
For this reason, Morici said it will be difficult for companies to make necessary investments in new fuel technologies.

Features

These Fortune 100 employers have at least 350 openings each. What are they looking for in a new hire? More

It would be the world's second-biggest economy. See how big companies' sales stack up against GDP over the past decade. More