Unemployment: 109 cities at 10% or higher
Government survey shows jobless rate grows in all 372 metro areas, with 15% joblessness in 18 of them.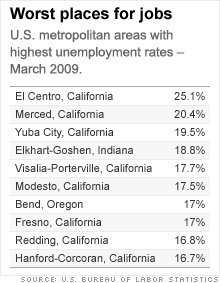 NEW YORK (CNNMoney.com) -- Unemployment rates in 109 metropolitan areas reached 10% or higher in March, almost eight times more than a year earlier, according to a government report released Wednesday.
Just 14 cities reported jobless rates of at least 10% last year, the Labor Department said.
The March 2009 report said unemployment rates in all of the nation's 372 metropolitan areas rose in March compared with the same month in the prior year.
Jobless rates of at least 15% were reported in March in 18 areas, compared with only one - El Centro, Calif. - the previous year.
The number of metropolitan regions that had unemployment rates under 7% dropped significantly to 95 from 329 in March 2008.
A total of 33 metro areas registered unemployment rates that were at least 6 percentage points higher than a year ago, and another 42 areas' increases were 5 to 5.9 percentage points.
The Labor Department does not adjust the rates in its metropolitan unemployment report for seasonal changes in employment.
El Centro continued to have the highest metropolitan unemployment rate at 25.1%. The town is near the Mexican border and relies on agricultural employment, according to economists. The area's unemployment rate tends to rise and fall depending on the farming season.
Houma-Bayou Cane-Thibodaux, La., and Iowa City, Iowa, reported the lowest rates in the country at 3.6%. Elkhart-Goshen, Ind., reported the largest unemployment rate increase year-over-year, at 13 percentage points.

Features

These Fortune 100 employers have at least 350 openings each. What are they looking for in a new hire? More

It would be the world's second-biggest economy. See how big companies' sales stack up against GDP over the past decade. More