Obama says he's fighting for economy
President outlines his efforts to pull the nation out of a recession, says recovery plan has already saved or created 150,000 jobs.
Obama's plan so far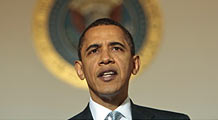 President embarks on wide-ranging initiatives to stem downturn and financial crisis.
More
WASHINGTON (CNNMoney.com) -- In a prime-time news conference on Wednesday night, President Obama touted his efforts to rebuild the economy in his first 100 days in office, while also stressing that he's no fan of "meddling" in the private sector.
Obama began the press conference by noting his economic recovery plan has already saved or created 150,000 jobs.
When asked about the administration's intervention in the banking and auto industries, Obama emphasized several times that he's not interested in running private companies and is looking toward the long-term goal of getting the industries back on their feet.
"I want to disabuse people of this notion that we enjoy meddling in the private sector," Obama said.
He also cited a program that Congress passed under his watch to ensure health insurance coverage for children of working parents and his plan to help as many as 9 million homeowners avoid foreclosure.
At the same time, Obama underlined the economic problems still facing the nation.
"I'm proud of what we've achieved, but I'm not content. . . Millions of Americans are still without jobs and homes, and more will be lost before this recession is over," Obama said. He went on to bemoan the continued credit crunch, problems in the auto industry and long-term federal budget deficits.
"And all of this means you can expect an unrelenting, unyielding effort from this administration to strengthen our prosperity and our security -- in the second hundred days, and the third hundred days, and all the days after," Obama said.
Wednesday's press conference is Obama's third prime-time question-and-answer session since taking office. The administration's response to the financial crisis and recession have been their hallmark.
In fact, even as Obama marked his 100th day in office, Treasury Department officials were engaged in complex negotiations over the fate of troubled automaker Chrysler LLC ahead of a Friday deadline.
When asked about whether Chrysler was doomed to end up in bankruptcy, Obama said that Chrysler may be able to avoid bankruptcy.
He also defended the government's intervention in the auto industry. "I would love to get the U.S. government out of the auto business as quickly as possible," Obama said.
"It was my obligation to make sure any taxpayer dollars that are in place to support the auto industry are aimed not at short-term fixes that continue these companies as wards of the state, but rather institutes the kind of restructuring that allows them to be strongly competitive in the future."
Obama also talked about his federal budget outline, which "builds on the steps we've taken over the last 100 days to move this economy from recession to recovery and ultimately to prosperity."
He said his budget proposal will invest in education and worker training and create renewable energy jobs.
In its first 100 days, the Obama administration has embarked on several ambitious, even unprecedented, initiatives to try to prop up banks, boost lending and re-energize consumer spending.
When asked what has surprised him in his first 100 days, Obama said he didn't expect to tackle so many critical issues simultaneously, including the "worst economic crisis since the Great Depression."
"The typical president has two or three big problems. We've got seven or eight big problems," he added.
He also expressed with candor, for perhaps the first time, the frustration of trying to get other power brokers to work with his agenda.
"I can't just press a button and have the bankers do what I want; or press a switch and Congress falls in line," he said. "What you do is make your best arguments and listen hard to what other people have to say and coax folks in the right direction."

Features

These Fortune 100 employers have at least 350 openings each. What are they looking for in a new hire? More

It would be the world's second-biggest economy. See how big companies' sales stack up against GDP over the past decade. More