Chill out, Chrysler owners
The word 'bankruptcy' sounds scary but there's good news here, too.
Photos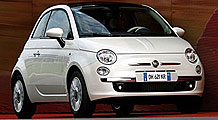 Find your next Car

NEW YORK (CNNMoney.com) -- The word "bankruptcy" in headlines along with the name of the company that made your car - or a car you're thinking about buying - could send your blood pressure soaring.
Now relax. While, this may not be the best news you could have heard, it's far from the worst.
"I'm more reassured," said Jack Nerad, executive editorial director at the automotive data company Kelley Blue Book, "I think people should be reassured."
There's actually far more certainty regarding the future of Chrysler today than there was even a week ago.
With Chrysler continuing to operate, your warranty will still be intact and there will still be Chrysler dealers out there to service your car. There may be fewer of them in the future, as Chrysler has said it intends to reduce the number of dealers, but they will be there.
That's because, in the past few days, deals have been worked out with Chrysler's major debt holders, the United Auto Workers and the Italian automaker Fiat, which stands ready to enter its deal with Chrysler as part of bankruptcy proceedings.
What all this means is the company is not going to go belly up right now and, quite possibly, not in the foreseeable future. There are still significant risks for Chrysler but, on balance, the news is probably good for Chrysler and those who own its products.
Through the bankruptcy process and the deals it has already made with lenders and its unions, Chrysler will have cleared away a huge swath of problems.
That could ultimately leave Chrysler able to concentrate on things like better cars and trucks.
The Fiat deal will help a there, too, by giving Chrysler access to Fiat's fuel efficient small cars as well as engines and transmissions that can be used in Chrysler-designed products.
In the long term, there are still significant risks for Chrysler. It's not certain how well the partnership with Fiat will turn out. Chrysler's restructuring is not solely in the hands of Treasury Dept., a bankruptcy judge will have the final say. Still, Treasury's plan for the company's future will most likely hold.
If you're thinking about buying a Chrysler car or truck, one difference you will encounter is who finances your car. From here on out it'll be GMAC, not Chrysler Financial.
In the short run, a lot of consumers probably will be scared away from Chrysler showrooms. Many are likely to even avoid Chrysler's used cars.
"I've got to think that hearing 'bankruptcy' attached to a brand will diminish their value," said Nerad.
The change in value wouldn't be enormous, he said, only because there's been a cloud over Chrysler for a long time. That cloud will begin to clear as people realize that Chrysler isn't about to go away.
This means that, if you're thinking of trading in or selling a Chrysler, Dodge or Jeep product, this wouldn't be the time to do it. Wait until things settle down a little more, when consumers get used to the idea that Chrysler has not gone bust.
For now, Chrysler is still here and has been given another chance to win back customers.

Features

These Fortune 100 employers have at least 350 openings each. What are they looking for in a new hire? More

It would be the world's second-biggest economy. See how big companies' sales stack up against GDP over the past decade. More