BofA's Lewis: Down, but not out
Bank of America's Ken Lewis may be able to hang on to the CEO spot for now, but experts argue his fate will hinge on firm's performance and stock price.
Bailout tracker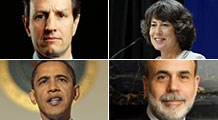 The government is engaged in a far-reaching - and expensive - effort to rescue the economy. Here's how you can keep tabs on the bailouts.
More
NEW YORK (CNNMoney.com) -- Bank of America's Ken Lewis may be down, but he's far from out.
On Wednesday, the veteran banking chief suffered one of the bigger setbacks of his career after the board ousted him as chairman of the bank, stripping Lewis of a position he has held since 2001.
The move came after shareholders narrowly approved a proposal at the bank's annual shareholder meeting Wednesday requiring the company to separate the roles of CEO and chairman. Lewis was re-elected to the company's board of directors, however.
Many shareholders have been fuming over a variety of failings that have surfaced on Lewis' watch, including a floundering stock price and most notably, the company's ill-timed acquisition of Merrill Lynch last year.
But even as Lewis retreats into his primary role of overseeing the company's operations as CEO, few believe that he is poised to leave the company where he has served for 40 years anytime soon.
"The change that has occurred is pretty much form over substance," said David Dietze, chief investment strategist of New Jersey-based Point View Financial Services, which owns Bank of America stock.
What Lewis currently enjoys, note experts, is the full backing of the other 17 board members - a group that has the ultimate say over who runs the company. One of those board members, Dr. Walter Massey, was named the new chairman Wednesday.
Massey and several other Bank of America (BAC, Fortune 500) board members who were re-elected by investors at Wednesday's annual shareholder meeting have served closely with Lewis over the years and may be unwilling to push him out completely.
But with Lewis no longer chairman, those long-time allegiances could very well start to disintegrate, said Espen Eckbo, a professor of finance at Dartmouth's Tuck School of Business, who also serves as director of the school's Lindenauer Center for Corporate Governance.
In addition, Lewis received the second-lowest level of support among the 18 incumbent directors, with 67% of shareholders voting in favor of his re-election at Wednesday's meeting. Many other directors, including Massey, had more than 90% of shareholders voting in favor of their return to the board.
The annals of corporate history are littered with instances in which executives who held the position of both chairman and CEO wound up leaving the company after being stripped of the chairman's role.
Walt Disney's (DIS, Fortune 500) Michael Eisner, who was removed as company chairman in March 2004 but had the full backing of the board to continue as CEO, announced a year later he would retire as CEO in September 2005, a year before his contract was set to expire.
More recently, two of Lewis' colleagues from the banking industry were forced to step down shortly after they lost the chairman's job.
Wachovia's Ken Thompson was stripped of his title as chairman in June of last year and was ousted from the company altogether just a month later.
Washington Mutual's Kerry Killinger, who served at the helm of the company since 1990, was also removed as chairman last June. Three months later, he parted ways with the Seattle-based lender -- just before WaMu became the biggest bank to fail in U.S. history and was sold to JPMorgan Chase (JPM, Fortune 500).
Yet, there is a case for drawing big distinctions between Lewis and his two fallen peers. Both Killinger and Thompson fueled incredible growth at their respective firms by doubling down on the U.S. housing market - a move that would ultimately prove fateful for both companies.
Lewis, on the other hand, employed a much more cautious approach, relying instead on key acquisitions during those years to help transform his company into the nation's largest bank based on deposits.
Lewis has maintained that the company's most recent acquisitions - last year's controversial purchases of mortgage lender Countrywide Financial and Merrill -will only further that growth trend, leaving Bank of America well poised to benefit when the economy turns around.
Still, one of the shareholder groups that spearheaded the campaign to remove Lewis as chairman said Thursday that the board must go even further.
"By removing Ken Lewis as Chairman and signaling strong opposition to his remaining on the board of directors, shareholders took the critical first steps." said William Patterson, executive director of CtW Investment Group, an investment advisor to pension funds, in a statement.
"The onus is now on the board to act on the underlying management and board concerns that drove [the] shareholder vote. At minimum, this includes accelerating the board's CEO succession plan," Patterson added.
Experts said the performance of Merrill and Countrywide, as well as BofA's stock price, may ultimately decide Lewis' fate. The stock has nearly tripled from its March lows. But at about $9 a share, it is still more than 70% below where it traded before the Merrill deal was announced.
Dietze said that given the economic straits the nation's banking industry now finds itself in, it may not be easy for Bank of America to provide the type of strong results that investors will continue to demand.
"What happens going forward in some ways is all up to the market," he said. "It's kind of out of his hands."

Features

These Fortune 100 employers have at least 350 openings each. What are they looking for in a new hire? More

It would be the world's second-biggest economy. See how big companies' sales stack up against GDP over the past decade. More