Chrysler's factories: A fate uncertain
Analysts say some plants will have to close if the company is to survive. The big if: what happens with Fiat.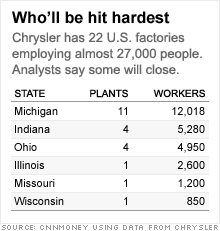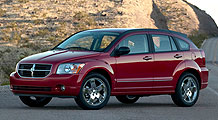 Chrysler was king of the hill with its 300 series just a few years ago. Oh how the mighty have fallen.
NEW YORK (CNNMoney.com) -- With Chrysler declaring bankruptcy, what may happen to the storied carmaker's 22 U.S. plants and thousands of workers is an open question.
On a conference call Thursday morning, U.S. officials said Chrysler has no immediate plans to permanently lay off workers or close any factories.
Chrysler did say all its plants planned to shut down temporarily during bankruptcy starting Monday, and confirmed that some plants were already closing as of Friday due to problems getting parts from suppliers. Workers hope these shutdowns are temporary.
The Obama administration says it expects a quick bankruptcy and a tie-up with Italian carmaker Fiat with little interruption to Chrysler's day-to-day operations.
If that happens, analysts predict there may be little need for permanent mass plant closings.
But the company's future is far from certain. Bankruptcy could turn into a prolonged process and Chrysler's emergence is by no means guaranteed.
Whatever happens, analysts say at least some Chrysler plants will have to be shut.
"They've lost so much market share, it's gotta happen," said Ron Harbour, a partner at the consultancy Oliver Wyman and author of the automotive newsletter the Harbour Report.
Which plants get the axe
Like GM, if Chrysler shuts plants it will use some standard industry metrics.
Factories closer to their suppliers have a better chance of staying open, as the firm can save on logistical costs.
For Chrysler, this means factories closer to it's core manufacturing plants clustered around Michigan, Ohio and Indiana.
This may put the company's 850-employee engine plant in Kenosha, Wis., in greater danger. Same for its 1,200-worker truck assembly plant in St. Louis, Mo.
Factories that have received recent investments or ones that can be easily retooled also have a better chance of staying open. This could be good news for Chrysler's truck assembly plant in Warren, Mich., which is currently getting a $220 million rehab. Or it's Trenton, Mich., motor plant, which is being retooled with $730 million to make a new fuel efficient V-6 engine.
Labor concessions will also play a role. While unions generally don't broker different deals on wages and benefits, they can strike deals with longer contract lengths or work rules, which can ultimately save an automaker lots of money.
A deal with workers at Chrysler's Jeep plant in Toledo, Ohio, that allows non-union employees to work at the factory was held up as one example of how local unions can strike separate agreements. Analysts say workers that strike similar deals at other factories have a greater chance of keeping their jobs.
The Fiat question
But unlike GM, the biggest question facing Chrysler's factories is what they may build under any deal with Fiat.
The Italian automaker generally makes smaller, more fuel efficient cars. It's this specialty that many are hoping will make this European partnership a success and not a repeat of Chrysler's last euro-adventure with Germany's Daimler, which ended in failure.
Because Fiat builds smaller cars with smaller profit margins, analysts say any cars Fiat decides to sell in the U.S. will need to be made here, as the cost of shipping them is too high to make any money.
This would be an opportunity for Chrysler to build Fiats in its factories. If that happens, and happens fast enough, it may represent the best chance to reduce Chrysler factory shut downs.
There's also the chance Fiat may decide to build its cars in one of Chrysler's Mexican plants.
That, say analysts, could set off a political storm in the United States.
"Closing American factories and moving them to Mexico would probably not go over well," said Bernard Swiecki, director of market analysis at the Center for Automotive Research.
Swiecki said any Chrysler-Fiat partnership that receives government money would likely come with rules preventing such a move, and government oversight is yet another factor in determining which Chrysler plants will stay open.
There's another issue that complicates Chrysler's situation.
Chrysler has had ongoing, uneasy relationships with several other automakers which may make decisions about which plants to keep open or to close tougher.
Case in point: a few miles south of Kokomo, Ind., sits a brand new $530 million transmission plant. With the help of millions in local and state money, it was built last year by the German firm Getrag and was supposed to supply transmissions to Chrysler and, according to one local source, maybe for use in Mercedes Benz cars too.
Then the financing fell through, the deal unraveled and now all the parties involved are hashing it out in court.
The factory has never been used.

Features

These Fortune 100 employers have at least 350 openings each. What are they looking for in a new hire? More

It would be the world's second-biggest economy. See how big companies' sales stack up against GDP over the past decade. More