Bank stress test results delayed
Wall Street will have to wait until May 7 to find about how 19 big banks did on the stress tests as regulators push back release of results by three days.
Bailout tracker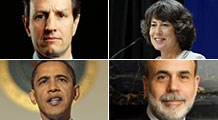 The government is engaged in a far-reaching - and expensive - effort to rescue the economy. Here's how you can keep tabs on the bailouts.
More
NEW YORK (CNNMoney.com) -- Regulators have delayed releasing the results of stress tests conducted on the nation's largest banks until May 7, government officials familiar with the matter said Friday.
The government expects to release its assessment next Thursday afternoon and will provide information both on individual companies as well as the overall group, according to sources.
For weeks, Wall Street has been anxiously awaiting the results of the tests, which regulators originally indicated would be announced on May 4.
Austan Goolsbee, a top economic adviser to President Obama, indicated Friday that the delay was driven, in part, over a disagreement by banks over the results of the tests. Regulators began notifying participating institutions of the results last Friday.
"It was going to be on Monday, but the banks have the right to go back and make their case to the regulators. . . like they're the guy complaining about their grade in class," Goolsbee said in an interview with CNN's Ed Henry.
Goolsbee added that the program was not "pass-fail" or a test of an institution's solvency, echoing comments made last week by top Federal Reserve officials when they detailed the methodology used in testing the group.
Instead, Goolsbee said, the tests were aimed at determining the health of each institution and, more importantly, which companies may need to raise more capital.
Since the program was first announced in February, bank regulators have been looking at the performance of a wide variety of assets owned by banks under two different economic scenarios.
One relied on current consensus economic expectations, while the other would focus on a more "adverse" scenario in which unemployment climbs above 10% and home prices suffer an additional decline of more than 20% over the next two years.
Regulators are also expected to disclose estimates next Thursday about how much additional capital a financial institution may require under the "adverse" scenario, according to one official.
Troubled banks Citigroup (C, Fortune 500) and Bank of America (BAC, Fortune 500), which have each received $45 billion in funds from the government's Troubled Asset Relief Program, or TARP, were subject to the stress tests. Other major recipients of taxpayer funds that also were required to undergo stress testing were healthier banks such as JPMorgan Chase (JPM, Fortune 500) and Goldman Sachs (GS, Fortune 500).
CNNMoney.com senior writer Jennifer Liberto and CNN senior producer Scott Spoerry contributed to this report.

Features

These Fortune 100 employers have at least 350 openings each. What are they looking for in a new hire? More

It would be the world's second-biggest economy. See how big companies' sales stack up against GDP over the past decade. More