Obama plans corporate tax crackdown
Administration's proposals aim to reduce tax breaks for U.S.-based multinationals that it says gives them an unfair advantage over domestic rivals.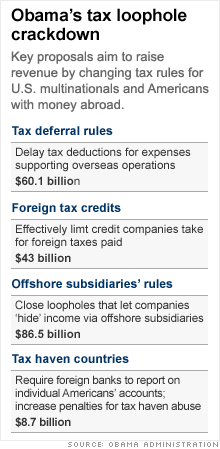 NEW YORK (CNNMoney.com) -- President Obama on Monday spelled out his proposals to close corporate tax loopholes on U.S. multinational corporations and crack down on overseas tax havens.
The goal is to help create new jobs in the United States and make the tax code fairer. All told, the administration said the changes would raise $210 billion in tax revenue over 10 years.
"I want to see our companies remain the most competitive in the world. But the way to make sure that happens is not to reward our companies for moving jobs off our shores or transferring profits to overseas tax havens," Obama said in a White House announcement.
But tax policy experts and corporate lobbyists say such measures, unless accompanied by a reduction in the corporate tax rate, will push more companies to move their operations -- and jobs -- overseas to more tax friendly countries.
The White House and Treasury Department laid out three proposals, some of which would require congressional approval to take effect, that they say will eliminate the current tax advantages U.S.-based multinationals get for investing and creating jobs abroad.
Tax deferral rules: Among the legislative proposals is a plan to reform the "deferral" rule, which lets U.S.-based multinationals deduct expenses for overseas operations, but defer paying income tax on the profits from those operations. That gets paid only if and when companies bring that money back to the United States.
The administration proposed that the companies must also defer taking their deductions until their overseas profits are brought back to the country. It estimates the change would raise $60.1 billion in revenue over 10 years.
R&D credit: Obama also proposed a tax cut for companies that do their research and development in the United States. This would be accomplished through making permanent a "research and experimentation" credit that already exists and would be cost $74.5 billion in tax revenue over 10 years.
Companies will welcome the prospect of the credit being made permanent, said Clint Stretch, managing principal for tax policy at Deloitte Tax, whose clients use the tax breaks at issue.
But no one expected it would ever disappear. The current R&D credit is set to expire at the end of 2009, but lawmakers temporarily extend the credit every year.
As a result, the net effect of the deferral and R&D proposals is a $60 billion tax increase on U.S.-based business, Stretch said.
"That's like saying I'm going to cut off your right arm but I'm going to let you keep your driver's license. No one expected the R&D credit to go away," he said.
Foreign tax credit: The administration also wants to make it harder for companies to "abuse the foreign tax credit. Currently companies may claim a credit against their U.S. income taxes for taxes they paid to another country. Amending that rule would raise an estimated $43 billion over 10 years, according to the administration.
'Disappearing' offshore subsidiaries: One change the administration proposed on Monday that can be made without congressional approval is a regulatory change in the way the IRS handles so-called "check the box" rules.
Those rules currently let companies shift income from one foreign subsidiary to another in a tax haven, thereby escaping taxation. Obama would require some foreign subsidiaries to be treated as separate corporations for U.S. tax purposes.
The administration estimates the change could raise $86.5 billion over 10 years.
Now on to Capitol Hill
The proposed changes to the deferral and foreign tax credit rules will make for a tough sell to the business community.
"These aren't loopholes. These were put into the code with full knowledge and full discussion," said U.S. Chamber of Commerce chief economist Martin Regalia. "This is only about raising more money -- it's not about making the tax code simpler or more efficient or easier or anything else."
On Capitol Hill, Republicans are all but certain to reject the proposal, but Democratic support is far from a lock, Stretch said.
One key player in that fight will be Senate Finance Committee Chairman Max Baucus, D-Mont. In a statement Monday, he said his committee is already working on similar proposals, such as clamping down on offshore tax havens.
But, Baucus added, "further study is needed to assess the impact of this plan on U.S. businesses."
Another pivotal player will be House Ways and Means Committee Chairman Charles Rangel, D-N.Y., who put forth a number of similar international tax reform proposals in 2007.
"I applaud President Obama's commitment to simplifying our tax code and look forward to working with the administration to close these loopholes," Rangel said in a statement.
Proponents of these kinds of corporate tax changes had also been expecting that the top U.S. corporate tax rate would be reduced. Most other countries have lower corporate tax rates.
The deferral and foreign tax credit changes alone are more likely to discourage companies from investing in the United States, Stretch said. But a simultaneous reduction in the corporate rate, he added, would have a better shot at creating jobs here because there wouldn't be such a stark advantage to moving operations to more tax-friendly countries.
- CNN's Lisa Desjardins contributed to this report.

Features

These Fortune 100 employers have at least 350 openings each. What are they looking for in a new hire? More

It would be the world's second-biggest economy. See how big companies' sales stack up against GDP over the past decade. More