The price of financial simplification
In a marketplace crowded with free tools, Green Sherpa hopes its cash-flow management system will draw paying users.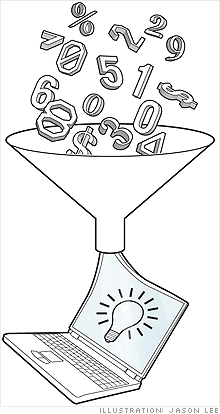 (Fortune Small Business) -- What's wrong with cash flow management? When Masen Yaffee and Erin Lozano asked this question over coffee in 2007, the answer was: everything.
The team had a combined 30 years of experience modeling cash flow for giants like Hallmark, Pepsi (PEP, Fortune 500) and Wells Fargo (WFC, Fortune 500). The accounting and forecasting systems they'd seen typically required laborious expense logging and offered feeble analysis and no support for collaboration. Businesses were often forced to manage their budgets across multiple platforms, such as Quicken and Excel.
"There was no ideal system," recalls Lozano.
So the Santa Barbara pair set out to build a cash-management application powerful enough for big business bean counters but simple enough that soccer moms could use it to balance the family checkbook. The result: Green Sherpa, an online tool launching in May at a cost of $8 a month. Multiple users can chat and collaborate on the same cash flow projection. The software connects to your online banking site, so expenses are entered automatically. A patent-pending scenario tool shows how an invoice paid in May will affect spending in December.
Green Sherpa is entering a crowded marketplace. Other online services, such as Mint, Wesabe and Expensr, track expenses for free. But so far, only Green Sherpa offers collaboration and scenario planning.
"It'll be interesting to see if consumers are willing to pay the fee," says a dubious Dana Gould, senior analyst at Financial Insights, a research firm in Framingham, Mass.
Green Sherpa still has a few mountains to climb.

To write a note to the editor about this article,
click here
.