Atlanta bank failure to have big impact
The collapse of 'bankers' bank' Silverton could lead to pain for 1,400 community banks that were its customers, but experts downplay fears of similar failures.
Map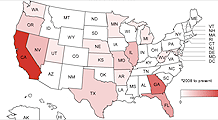 Photos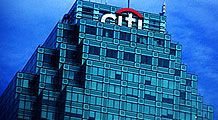 NEW YORK (CNNMoney.com) -- When regulators announced last Friday they had seized control of the relatively unknown Silverton Bank, its collapse struck many as just another minor casualty in the ongoing economic crisis.
But the demise of the Atlanta-based bank could have broad implications for the entire industry, given Silverton's unique role as a so-called "bankers' bank".
Unlike the 31 other banks that have failed so far this year, Silverton did not take deposits from, or make loans to consumers. Instead, its primary purpose was to offer a variety of services such as check clearing and credit card operations to community banks around the country that find it too costly to do this on their own.
Silverton also often acted as the lead banker on some syndicated commercial real estate loans, a business that helped contribute to its failure.
All told, Silverton serviced approximately 1,400 community banks in 44 states, according to the Federal Deposit Insurance Corporation, making it one of the largest of the 20 or so "bankers' banks" in the country.
But even as regulators attempt to smooth the transition for Silverton's clients, many community banks will suffer as a result of its collapse.
Arguably among the hardest hit will be the hundreds of community banks that were shareholders in Silverton's holding company. Their stakes have been completely wiped out as a result of the failure. Most bankers' banks are cooperatively owned by their community bank customers.
The total dollar impact may be tough to discern at this point, but some individual banks are already warning that they are on the hook for millions as a result.
Nashville-based Pinnacle Financial Partners (PNFP), for example, revealed last week that it would write off $21.55 million in its second-quarter results as a result of the Silverton failure.
Banks that participated on some of the troubled commercial real estate loans that Silverton helped generate may also find themselves at risk, notes Chris Cole, a vice-president and senior regulatory counsel for the Independent Community Bankers of America.
In addition, the institutions that relied on Silverton on a daily basis for services now have to deal with the disruption of finding a new provider.
"There will be some pain," said Cole.
Regulators maintained, however, that they did not expect to see any significant impact on the bank's clients. The FDIC moved to create a bridge bank to take over Silverton's assets, which will allow the institution to continue to operate for at least the next two months. The FDIC also said it had contracted The Independent Bankers Bank, out of Irving, Texas, to assist with the transition.
Silverton's stresses
Experts including Cole, however, have been quick to draw distinctions between Silverton and the nation's remaining bankers' banks.
Silverton was technically chartered as a commercial bank, and it also got caught up in the real estate market fever that swept though the country earlier this decade. Many other bankers' banks avoided the housing debacle.
Nearly half of the firm's total loans, according to a report published by law firm Jones Day, were focused on areas like construction and land development - two areas that have suffered dearly as new home and commercial real estate construction came to a screeching halt.
Compounding those problems was the fact that much of those loans were centered in the Southeast, a region that has become overrun with bank failures as a result of the housing market collapse.
Jerry Blanchard, a partner in the financial institutions practice at the law firm Bryan Cave, who is also helping represent Silverton, acknowledged that the fate of the bank was in some ways foreshadowed by the banking woes across the Southeast.
Look no further than Silverton's home state of Georgia, which leads the nation in failed banks during the credit crisis. Georgia has been home to six bank failures so far this year, and 11 since last fall.
"When community banks catch cold, bankers' banks get pneumonia," said Blanchard.
Still, it appears to be business as usual for other banker's banks, according to representatives of Silverton's peers. It may even be an opportunity for growth as Silverton's clients look for someone else to help out with their transaction needs.
"[Silverton] was in the wrong place at the wrong time," said Jason O'Donnell, a senior research analyst who tracks mid-Atlantic community banks at Boenning & Scattergood. "I would be surprised to see another large bankers' bank go under in the near term."

Features

These Fortune 100 employers have at least 350 openings each. What are they looking for in a new hire? More

It would be the world's second-biggest economy. See how big companies' sales stack up against GDP over the past decade. More