Chrysler bankruptcy puts a town on edge
Kokomo's 5,000 Chrysler employees fight to remain upbeat after Chapter 11 filing.
Photos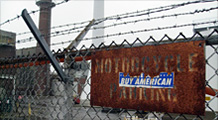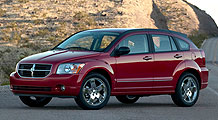 Chrysler was king of the hill with its 300 series just a few years ago. Oh how the mighty have fallen.
NEW YORK (CNNMoney.com) -- Things were already tough in Kokomo, Indiana.
With an unemployment rate of 20% and another 20% of the workforce employed in the auto sector, the car industry's woes over the last year have hit especially hard here.
Now that the town's largest employer, Chrysler, has filed for bankruptcy, the fate of 5,000 Chrysler workers and thousands of retirees in Kokomo is even more uncertain.
"It's a very scary situation really," said Randy Hunter, who drove a forklift for Chrysler for 30 years before retiring in 2006. "My pension check pretty much pays all the bills."
The company said it is closing four plants nationwide. So far, none of the closures are in Kokomo and just about everyone is hoping Chrysler can emerge from bankruptcy in short order with relatively few disruptions to its workforce, and retirees' income.
But in bankruptcy anything is possible, and that's got people like Hunter on edge.
Making ends meet
Hunter, 53, currently gets a pension of about $3,000 a month, before taxes. He's worried about how he's going to survive if his pension gets cut.
If Fiat walks away from talks or if the government pulls its support, Chrysler may be unable to pay its pensions. If that happened, Hunter would be left with about $1,800 a month from the government's corporate-funded pension insurance plan.
Then there's health insurance, which Medicare doesn't cover until he's 65 either. Under a special plan for people whose pensions have been taken over by the government, he could get a tax credit for 80% of the costs until then. But with health care coverage so expensive, it might still not be enough.
"If you lose your health care, what happens then," said Hunter, who battled tonsil cancer a few years back and still goes in for regular checkups. "I guess I'd have to go to a clinic."
Around town the mood varies.
"I've been here 40 years and I've never seen Kokomo like this", said Troy Black, 40, owner of Kokomo Paint and Body. "I've never seen so many empty buildings and homes. I don't think people are optimistic at all."
But others say despite the bankruptcy filing, they're confident Chrysler - and Kokomo - can emerge leaner, more efficient, and ultimately more prosperous than before.
"Most of the community leaders feel like the reorganization will have a positive impact on the company," said Jeb Conrad, head of the Greater Kokomo Economic Development Alliance. He also said that Chrysler's award winning facilities in Kokomo stand a better chance for staying open into the future.
Although Conrad does acknowledge that some people in town feel the new Chrysler won't be able to make a go of it and the firm will flounder.
Hunter, for his part, also remains optimistic.
"I'd say they'll be concessions made by the employees, but I think Chrysler can pull out of it" he said. "We did it in the 1980s and I think we can do it again."
Correction - A previous version of this story said Hunter would ultimately be able to get his whole pension once he turned 65, but he wouldn't.

Features

These Fortune 100 employers have at least 350 openings each. What are they looking for in a new hire? More

It would be the world's second-biggest economy. See how big companies' sales stack up against GDP over the past decade. More