Chrysler bankruptcy: Test drive for GM
GM could gain leverage in negotiations with creditors and dealers if Chrysler's reorganization is a success. But it still may wind up filing for bankruptcy.
Photos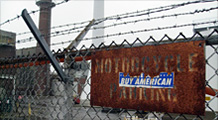 NEW YORK (CNNMoney.com) -- Will General Motors succeed in its efforts to restructure itself and turn the embattled automaker around? That could depend on how well the bankruptcy process plays out over the next month at rival Chrysler LLC.
Chrysler hopes to quickly reorganize through bankruptcy. It filed for bankruptcy Thursday as part of a deal with the federal government, unions, some lenders and Italian automaker Fiat to keep the company from being shut down.
Chrysler plans to sell its more valuable plants and assets to a new company to be controlled by Fiat and the United Auto Workers union, and leave behind unprofitable plants, dealerships and loans it can no longer afford.
GM, which has until the end of the month to meet the federal government's demands for cutting costs and coming up with a new long-term plan for viability, will be watching the Chrysler proceedings closely. That's because GM could wind up having a similar trip through bankruptcy court.
GM could use bankruptcy to create a new company to buy its valuable assets, such as the Chevrolet, Cadillac, Buick and GMC brands, as well as overseas operations, and leave the rest of the company's obligations behind. But in GM's case, the Treasury Department is likely to end up as majority shareholder.
If Chrysler accomplishes its bankruptcy goals over the next few weeks, experts say it will give GM (GM, Fortune 500) the leverage it needs in its own negotiations with creditors, dealers and its unions.
Success at Chrysler might even make bankruptcy a more attractive alternative for GM.
"It could give GM the backbone, the courage, the leverage to push it to the hilt," said one veteran of auto industry bankruptcies who asked not to be named. "It also gives Treasury courage to put GM into bankruptcy if they can't get everything they're seeking done."
The fact that Chrysler's bankruptcy didn't cause its sales to quickly fall of a cliff or lead to immediate problems for its supplier base fall off a cliff might make a GM bankruptcy filing more likely. Some feared massive drops in sales and widespread supplier failures if a major automaker went bankrupt.
"A GM bankruptcy won't be the first. It won't be as novel," said Scott Peltz, a managing director at business consultant RSM McGladrey. "Just that fact makes bankruptcy a little more acceptable, and somewhat more likely."
Keeping a close eye on Chrysler
So far, Chrysler's plans are on track. Federal bankruptcy judge Arthur Gonzalez approved a bidding process late Tuesday that could identify the buyer of Chrysler's assets by May 27, just days before the deadline that Treasury has set for GM to come up with a final plan.
But some bankruptcy experts believe that Chrysler's lenders will succeed in their efforts to block the sale of assets to Fiat, despite the initial setback.
Bankruptcy expert Jeffrey Manning, managing director at Trenwith Securities LLP, an investing firm, said the fact Chrysler's plan leaves secured lenders worse off than unsecured creditors, such as the United Auto Workers, goes against long-established bankruptcy law and should be overruled by the court.
"Judge Gonzalez would be jeopardizing his sterling reputation to ignore an awful lot of bankruptcy code to support the plan," he said.
Officials with the Obama administration and Chrysler continue to insist the trip through bankruptcy will be a quick one. The senior administration official said "we are as close to 100% that you can get without being foolish in saying that there's no risk at all."
Still, if Chrysler's plans are derailed by its creditors and dealers in bankruptcy court, it could give GM's lenders and dealers the leverage they need to say no to the automaker's and Treasury's demands to reduce the amount of money owed to them.
But other experts say that even if things go badly in court for Chrysler, GM could still be in better shape in bankruptcy, since its major creditors are bondholders who own $27 billion of loans not secured by company assets. That leaves them in far weaker position than the Chrysler lenders.
GM CEO Fritz Henderson told reporters Tuesday afternoon that while he is following the Chrysler bankruptcy process, it won't be the final determination of what GM does.
"We're going to watch it, I can assure you," he said, adding "it's not as if we're identical companies. We have different factors."
A GM bankruptcy could be avoided -- but still likely
GM management and administration officials could develop second thoughts about using bankruptcy to fix problems if a number of major auto parts makers tumble into bankruptcy and shut some of their plants in the coming weeks. Many in the industry still fear that will happen.
Administration officials involved in the auto industry bailout won't speculate on what Chrysler's bankruptcy will mean for the process at GM.
"I would simply say that what is happening [at Chrysler] is a reflection of the President's willingness to make tough decisions and to do what's necessary," said a senior administration official briefing reporters last week.
But in some respects, GM has a better chance to succeed outside of bankruptcy simply because it has the benefit of more time.
The UAW has already agreed to modifications of its 2007 contracts with Ford and Chrysler. Although there is no final UAW deal with GM, Henderson said Tuesday that much of what the company is seeking from the union have been agreed to already.
But GM, which has lost $80 billion during the past four years and is expected to report a loss of $7 billion for the first quarter Thursday morning, still faces a tough battle with dealers and bondholders.
Chrysler announced deep cuts in its dealership network when it filed for bankruptcy. And GM disclosed plans last week that it was accelerating plans to drop dealers. It has already started to notify some of the dealers it wants to jettison as it seeks to cut the number of dealers by 42% to 3,600 by next year.
How Chrysler dealers fare in bankruptcy court is likely to have a large impact on how many GM dealers accept the company's buyout offer in the next month, said Bob Schulz, Standard & Poor's senior auto credit analyst. That's because there are tough state franchise laws that protect dealers which have never really been tested in bankruptcy court before.
But the greatest problem could be negotiations with GM bondholders. So far, they have rejected a plan that would leave them with GM stock worth only a fraction of the $27 billion they are owed.
While Chrysler was able to win a similar stock-for-debt swap from its major lenders, it also was able to offer them cash. And the only lenders Chrysler convinced to take the deal were major banks such as JPMorgan Chase (JPM, Fortune 500) and Citigroup (C, Fortune 500), which have received billions of dollars in aid from the government in recent months.
The hedge funds and other lenders who have not received federal help balked at the swap, prompting bankruptcy. And those lenders are the ones fighting hardest in bankruptcy court against Chrysler's plans to sell assets to Fiat.
In GM's case, only a small fraction of its bonds are believed held by the major banks that have received bailout money. About 20% of the debt, or $6 billion, is held by individual investors, such as retirees, who have already started to round-up political support against GM's offer to them.
Even Henderson said that winning the necessary approval from bondholders will be "a tough task." That is the reason he thinks a bankruptcy is the most likely path for GM.

Features

These Fortune 100 employers have at least 350 openings each. What are they looking for in a new hire? More

It would be the world's second-biggest economy. See how big companies' sales stack up against GDP over the past decade. More