Auto dealer cuts: Painful surgery
For automakers, there will be little short-term gain from culling dealers, but the time to do it is now.
Photos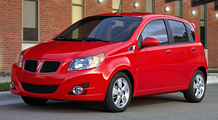 Find your next Car

NEW YORK (CNNMoney.com) -- Hundreds of General Motors dealers will find out this week if their businesses will be sacrificed as cries for automakers to cut costs rise from Wall Street and Capitol Hill.
The automaker, its dealers and outside experts agree that shuttering dealerships won't save much money and could cause significant short-term pain.
But experts say GM (GM, Fortune 500) has a rare chance, with bankruptcy looming, to strip dealers of their franchise contracts quickly and set themselves up for long-term benefits.
"It's a once-in-a-lifetime opportunity for GM," said Bruce Belzowski, an auto industry expert at the University of Michigan.
Meanwhile, dealer groups are launching last ditch battles against the cuts, arguing that drastic closings could hamper a fragile American economy.
Difficult surgery
GM plans to reduce the number of dealerships by more than 40% by the end of next year. That means 2,600 of GM's almost 6,300 dealerships will close.
Many dealers are on the way out anyway, closing simply because of the economic downturn and the tight credit market. More will be closed or sold off as GM sheds its Hummer, Saturn, Saab and Pontiac brands.
Others will be pushed out by GM. As many as 1,500 dealership contracts will be selectively pulled by the automaker because the dealerships are poor performers or because they are in locations already saturated with dealers selling the same brands.
"We might be over-dealered in some of the metro areas where competition has moved in," said GM spokeswoman Susan Garontakos.
Ordinarily, automakers have to negotiate individually with each dealer whose contract they want to terminate. When GM shut down its Oldsmobile brand in the early 2000's, it's estimated that it cost the carmaker more than $1 billion, much of that in payouts to compensate dealers.
Dealers, which are independently owned and operated businesses, are protected by strong state franchise laws, in part because they are so important to local economies. Almost 20% of a state's sales taxes typically come from auto dealerships, for instance. Dealerships also offer good, high-paying jobs.
Dealers fight back
The National Automobile Dealer's Association and dealer groups for both GM and Chrysler are fighting the cuts. Dealership supporters are highlighting the negative impacts of the cuts as they campaign in the courts and in Washington to save at least some of their dealerships.
The cuts, as planned, will result in the loss about 140,000 jobs, according to NADA.
Since they are independently owned and operated businesses, an auto dealership does not cost a manufacturer much money, the groups point out. Instead, dealerships are a source of income since they - not customers - actually buy cars from the manufacturers.
That's something often lost on outside observers, said Gary Dilts, formerly head of sales at Chrysler and now a senior vice president at J.D. Power and Associates.
"There seems to be almost a sense that these dealerships are a financial burden to the carmakers, and they're really not," he said.
Also, the carmakers themselves may have to buy back excess inventory. The remaining dealerships may not be able to step in immediately and pick up sales, said John McEleney, chairman of the NADA.
"When a dealership closes, a manufacturer loses market share for about 18 months," he said.
Reduced competition, especially around big cities, will lead to higher car prices for consumers, McEleney said. Even as car prices plunge, customers seem resistant to return.
High inventories are already a problem for GM, which has announced steps to deal with it. The automaker will be closing many of its factories for as much 11 weeks this summer, Garontakos pointed out. That should help prevent the backlog of unsold cars and trucks from getting worse.
Long-term gains
The upside of cuts is that the surviving dealers can present a better image for the manufacturer and over time, said Dilts, the surviving dealer network will be able to pick up lost sales volume as the economy improves.
More profitable dealers can spend more on store upgrades, build more service bays to take care of customers and provide better salaries and higher commissions to attract the best employees.
"We feel that customers like to visit nice, clean, upgraded facilities," said Garontakos.
Just reducing the sheer number of dealerships isn't the goal for GM.
"They're going to leave their 'power stores' together in their key markets," said Dilts.
GM's dealership network gives it certain advantages over a rival like Toyota said GM sales spokesman John McDonald.
Asian car dealers are concentrated in urban areas with relatively few locations in America's vast rural areas. Car and truck shoppers who live far from urban centers feel more comfortable buying a GM product because they can count on service at a dealership close to home.
"That's why the have 60% market share in pickup trucks," agreed Belzowski
So GM is likely to trim more dealers in urban areas with many locations covering a relatively small zone while preserving its coverage in the vast rural expanses where competitors are few.
Hard and fast
Dealers understand that Detroit automakers need to reduce the number of dealerships to better match today's actual market share, McEleney said.
"It's the depth and speed of these cuts that we object to," he said.
The automaker may want to err on the side of caution: Cutting too many dealers, rather than not enough, while the opportunity to do so relatively cheaply is at hand.
GM has increased the speed and number of planned dealer closings in response to pressure from the Treasury Department, to which it owes its very survival.
A source familiar with Treasury's thinking denied that the government had set any specific targets or goals for GM's dealer programs.
Given the severity of the problems, even officials in Washington may be surprised to see just how much pain must be inflicted to save the struggling auto companies, Belzowski said.
"There's more blood on the floor than, I'm sure, the administration would like to have seen," he said, "and now it's going to be dealer blood, as well."

Features

These Fortune 100 employers have at least 350 openings each. What are they looking for in a new hire? More

It would be the world's second-biggest economy. See how big companies' sales stack up against GDP over the past decade. More