Congress to AIG: We don't trust you
Members of the House Oversight Committee lash out against the bailed out insurer, as it cautiously presents its restructuring plan.
Bailout tracker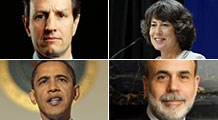 The government is engaged in a far-reaching - and expensive - effort to rescue the economy. Here's how you can keep tabs on the bailouts.
More
NEW YORK (CNNMoney.com) -- The CEO of bailed-out insurer American International Group told Congress on Wednesday that the company has made "substantial" progress in its restructuring efforts, but lawmakers said they wanted more to show for it.
"We are hearing, 'Trust us,' but we are not willing to let $180 billion go just on trust," said Rep. Edolphus Towns, D-N.Y., chairman of the House Oversight Committee. "We will question; we will inquire; we will verify."
Chief Executive Edward Liddy, who said AIG is diligently working toward repaying its billion-dollar government bailout, described the company's plan.
"We continue to weigh every decision regarding the restructuring with several criteria in mind," Liddy said. "Will this action facilitate a reduction in systemic risk? Is this action the best use of the federal assistance we are receiving? Will this action enhance our ability to pay back the government?"
Still, Liddy estimated that it would take three to five years for AIG to pay the government back. And that's only "if global market conditions stay the same or improve."
Liddy was asked by Towns to submit a roadmap of the company's repayment and restructuring plan, known as "Project Destiny," prior to the hearing. But AIG did not meet his request.
"The questions we are raising today should be easy enough to answer, but unfortunately, AIG has failed to fully respond to straightforward requests for information," said Towns. "This cannot continue."
Liddy said AIG will provide the committee with "broadbrush strokes" about the plan, but that details would provide sensitive information to the company's competitors.
He said he submitted the roadmap to the Federal Reserve under a confidentiality agreement. After prodding by several committee members, Liddy tentatively agreed to share the plan with Congress under a similar understanding.
"If all of the operating details were to be made public, it would put us at a severe disadvantage to repay the American public," Liddy said.
In a broad description of the company's plan, Liddy said AIG will sell stakes in its foreign life insurance units to the government, and a 20% stake of its property and casualty business (AIU) in an initial public offering.
Oversight: For the first time since their January appointment, the three trustees overseeing AIG's restructuring also testified. Jill Considine, a former Depository Trust official; Chester Feldberg, a former New York Fed official; and Douglass Foshee, chairman of natural gas provider El Paso Corp., were appointed on Jan. 16 by the Federal Reserve to represent the taxpayers' 77.9% ownership stake in AIG.
The trustees said they didn't actually start doing any work until March 4, because it took that long for the insurer to transfer the shares of the company to the government.
Little is known about how the trustees operate, and Congress grilled them about their responsibilities.
The trustees said they were tasked to act as independent shareholders, though they are required to report to the New York Fed on a monthly basis. They said they meet at least once a week and submit their meeting minutes to the New York Fed.
"We are in uncharted waters," said Considine. "We're a unique instrument, but the trust is perfectly tailored to the situation."
Several committee members asked for more transparency, including copies of those minutes, but the trustees said they believed the minutes were the property of the Fed.
The three trustees also said they are mandated to stay out of AIG's day-to-day operations and are not allowed to sit on the insurer's board of directors. But in an effort to meet their responsibility for voting on behalf of shareholders, they said they are actively seeking new board members for AIG.
They also had mostly favorable comments about Project Destiny, which they have reviewed.
"Based on what we've seen, the plan makes sense," said Foshee. "But one of the challenges AIG faces is you don't want to sell the crown jewel assets in a market where you won't get full value for them."
Bailout progress: AIG's recovery was expected to be a relatively quick process. But in eight months the government's bailout more than doubled to $182 billion, of which AIG has drawn more than $130 billion.
AIG has been trying to sell off many of its businesses to repay the loan, but in the current credit environment, few companies have been receptive to AIG's asking prices. Also hampering its repayment efforts, AIG posted its sixth straight quarterly loss last week, even as it made significant strides to wind down its financial products division, which was at the root of the company's collapse.
"How long the plan will ultimately take will very much depend on how quickly and how strongly the global economy recovers," Liddy said.
Bonuses: Liddy continued to face scrutiny about the millions of dollars of bonuses it paid to its executives last year.
Liddy was grilled about the discrepancy between the $165 million in retention bonuses to executives at its crippled financial products division announced in early March, and the $454 million in bonuses it paid to all of its executives, which the company later announced.
"I apologize for the confusion," Liddy said. "We try to be cooperative, but sometimes we are drowning in requests."
Rep. Patrick McHenry, R-N.C., also questioned Liddy about when Treasury Secretary Tim Geithner first learned about the bonuses.
A controversy brewed in March, after Geithner initially said he learned about the bonuses in the second week of the month, but Liddy testified that Geithner knew of the bonuses in the first week. Geithner later clarified his comments, saying he only learned of the "full scope" of the bonuses in the second week of March.
McHenry wanted to know if Geithner, when meeting with AIG as president of the New York Fed in late 2008, discussed the bonuses with Liddy.
"You met with Geithner in September, October, November, but did not mention the word 'bonus?'" asked McHenry.
"No," replied Liddy.
Ohio pensions: Liddy also faced scrutiny from Rep. Dennis Kucinich, D-Ohio, about a fraud case involving Ohio state employees and AIG.
The case involved a so-called finite reinsurance transaction with competitor General Re that then-New York state Attorney General Eliot Spitzer said allowed AIG to improperly boost its loss reserves by $500 million in 2000 and 2001, inflating financial results. The investigation led to the ousting of then-AIG CEO Hank Greenberg in 2005, and the insurer's stock fell substantially.
Three Ohio state pension funds then sued AIG for substantial losses resulting from the investigation. AIG paid $1.6 billion to New York state regulators, but the case in Ohio is ongoing.
Kucinich took issue with the controversial decision for AIG to pay back its counterparties in full on losses suffered from derivatives that the AIG insured.
"AIG repaid counterparties one to one, dollar for dollar, but when it comes to teachers and firefighters in Ohio, [they got] zero," Kucinich said. "This is not acceptable, Mr. Liddy. I'm not going to let you get away with it."

Features

These Fortune 100 employers have at least 350 openings each. What are they looking for in a new hire? More

It would be the world's second-biggest economy. See how big companies' sales stack up against GDP over the past decade. More