Chrysler closing 789 dealerships
Troubled automaker tells court it wants to shutter about a quarter of its dealers.
Maps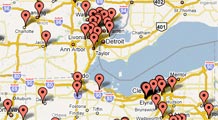 Select state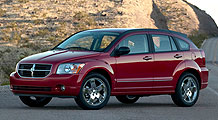 Chrysler was king of the hill with its 300 series just a few years ago. Oh how the mighty have fallen.
Find your next Car

NEW YORK (CNNMoney.com) -- Chrysler LLC will close down 789 dealerships, or roughly 25% of the current number, according to a plan filed in bankruptcy court Thursday.
"With regret, this letter is to inform you that on May 14th, 2009, we are filing a motion in bankruptcy court rejecting the Sales and Service Agreement(s) between Chrysler Motors LLC and the dealership listed above," Chrysler said in letters sent to the dealereships. "Upon approval from the court, your agreement will be rejected on or about June 9, 2009."
The letters began arriving Thursday morning.
Chrysler had a total of 3,181 authorized dealers in operation at the time of its April 30 bankruptcy court filing, according to court filings. Just over half of that number accounted for more than 90% of Chrysler sales, according to the filing.
The dealers being shut down represent 14% of Chrysler's total sales, the carmaker said.
General Motors (GM, Fortune 500) has said it wants to cut 42% of its dealership base to 3,600 by next year. Fritz Henderson, the GM chief executive, said on Monday that it would soon start notifying dealers as soon as this week.
Auburn Hills, Mich.-based Chrysler does not believe closing these dealerships will adversely affect sales.
"After a period of time, and substantially improved marketing and investments, overall sales in the reduced network are anticipated to grow beyond current sales levels within the existing network," the carmaker said in its filing.
Chrysler's plans to close the dealerships must still be approved by U.S. Bankruptcy Court Judge Arthur Gonzalez, who is overseeing the government-led restructuring of the company.
"It is with a deep sense of sadness that we must take steps to end some of our Sales and Service Dealer Agreements," Steven Landry, Chrysler's executive vice president for North American sales said in an announcement. "The decision, though difficult, was based on a data-driven matrix that assessed a number of key metrics."
About half the dealerships being closed sell fewer than 100 vehicles per year, Landry said in a conference call. About 44% also sell vehicles other than Chrysler products, he said.
Under the plan filed with the bankruptcy court, the dealerships will have until June 9 to close their Chrysler franchises.
Some of the targeted dealers are preparing to fight the closings. Stephen Lerner, a partner in the law firm of Squire, Sanders & Dempsey, is representing some of the dealers. He said his firm will argue, among other things, that since dealership agreements don't cost a manufacturer money, they don't meet the legal requirements for the sorts of agreements that can be voided by a bankruptcy court.
ABC Motors in Valley Stream, N.Y., is one of the dealerships on the list to be cut. Owner Aaron Beecher said he will have to lay off all but 8 or 9 of his 25 employees and will sell only used cars.
"I feel like I'm on death row," said Beecher.
Not all dealership owners are distressed by these notifications. Mike Jackson, chief executive of publicly traded AutoNation, the country's largest dealership chain, will see six of his dealerships closed under this plan. AutoNation owns 289 dealerships representing various manufacturers.
"We were going to do this anyway," he said.
Over the past seven years, he said, AutoNation has gone from owning 50 Chrysler dealerships to just 17 today. Overall, the closures are good for Chrysler, good for the automotive industry, he said, and good for his remaining 11 Chrysler dealerships.
The Obama administration, which has pumped more than $7.2 billion into the tottering automaker, has said it hopes the move Chrysler through bankruptcy quickly by creating a shell company that will be owned by a combination of the government, the United Auto Workers union and Italian carmaker Fiat.
In assessing Chrysler's viability, the Treasury Department found the automaker could not survive as a stand-alone company. Chrysler had already been in discussions with Fiat about a partnership. The current plan calls for Fiat to assist Chrysler by providing engineering for small and midsized cars.
The Treasury Department had no role in choosing which dealership contracts would be dropped or in the number dropped, the agency said in a statement.
For the automakers, closing dealerships is a tricky business. For one, Chrysler and GM won't save substantial amounts of money by closing dealerships, which are independently owned businesses.
At the same time, both GM and Chrysler have no choice but to greatly reduce their dealerships ranks, which have grown far larger than sales demand requires. The goal is a leaner, more profitable, network of sellers.
In ordinary circumstances, automakers' efforts to close dealerships have been stymied by state laws that protect franchisees. Bankruptcy court judges, however, can override such laws.
Chrysler has been working to consolidate its dealerships by helping to create more that sell all three of Chrysler's brands - Dodge, Jeep and Chrysler - under one roof. About 62% of Chrysler dealers are consolidated now but after these closures 84% will be, Chrysler executives said in a conference call.
CNNMoney.com staff writer Aaron Smith contributed to this report.

Features

These Fortune 100 employers have at least 350 openings each. What are they looking for in a new hire? More

It would be the world's second-biggest economy. See how big companies' sales stack up against GDP over the past decade. More