Insurers win access to bailout funds
Treasury says that Hartford Financial, Prudential Financial Group, Lincoln National and Prudential Financial qualify for TARP money.
Bailout tracker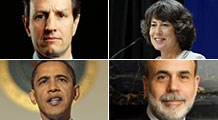 The government is engaged in a far-reaching - and expensive - effort to rescue the economy. Here's how you can keep tabs on the bailouts.
More
LOS ANGELES (Reuters) -- At least four U.S. insurers won approval on Thursday to raise billions of dollars through the government's bank bailout plan, the U.S. Treasury Department said.
Hartford Financial (HIG, Fortune 500), the No. 4 U.S. insurer beset by worries about capital, got preliminary approval to raise $3.4 billion via the Troubled Assets Relief Program, known as TARP.
Three other insurers that also secured a greenlight included Prudential Financial Inc. (PRU, Fortune 500), Lincoln National Corp. (LNC, Fortune 500), and the Principal Financial Group (PFG, Fortune 500), a Treasury spokesman said.
The Wall Street Journal reported that Allstate Corp. (ALL, Fortune 500) and Ameriprise Financial Inc. (AMP, Fortune 500) had been cleared too.
Shares in a raft of U.S. insurers soared between 3% and 6% in after-hours trade amid reports the Treasury Department had doled out approvals.
Investors have worried about the health of Hartford and other insurers since the near-collapse in September of American International Group (AIG, Fortune 500).
The four firms confirmed by the Treasury Department qualified because of their status as bank holding companies and because they applied for access before a Nov. 14, 2008, deadline, the Treasury spokesman said.
A Prudential spokesman declined to comment.
Executives at Allstate and Ameriprise were not immediately available for comment. Lincoln and Principal spokesmen did not return calls for comment.
Hartford, which in April posted its third straight quarterly loss because of dismal financial markets, said in a statement it received preliminary approval for the capital participation -- subject to final negotiation and approval.
"Applying for participation in the CPP was a prudent step for the Hartford, particularly given the continued economic uncertainty," Chief Executive Ramani Ayer said.
"These funds would further fortify our capital resources and provide us with additional financial flexibility during one of the most volatile market climates in our nation's history."
Life insurers such as Hartford have endured criticism in the past year for taking reckless bets, such as "variable annuities" or policies that promised unrealistic guarantees to buyers.
Walloped also by tanking financial markets, the largest U.S. insurers have sought government aid to tide them over the financial and economic crisis.
As a condition for taking part in the Treasury Department's Capital Purchase Program, Hartford had agreed to buy Florida-based Federal Trust Corp, a small savings and loan.
Hartford said at the time it would be eligible to sell $1.1 billion to $3.4 billion of preferred shares to the government under the Treasury Department's $700 billion TARP.
Shares in Hartford climbed to $15.65 in after-hours trade from a $14.75 regular close. Stock in Lincoln rallied 4.6%. Principal gained more than 3%.
But Allstate, Ameriprise and Prudential, which had gained between 2.5% and 6.4% during the regular session, held steady in extended trade.

Features

These Fortune 100 employers have at least 350 openings each. What are they looking for in a new hire? More

It would be the world's second-biggest economy. See how big companies' sales stack up against GDP over the past decade. More