Stocks: Rally or bust
Investors are in fight or flight mode after Wall Street's two-month old stock run hit its biggest snag yet.
Bailout tracker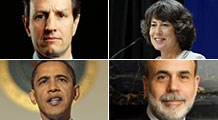 The government is engaged in a far-reaching - and expensive - effort to rescue the economy. Here's how you can keep tabs on the bailouts.
More
NEW YORK (CNNMoney.com) -- The two-month stock market rally is in choppy waters, after the Dow, Nasdaq and S&P 500 all tumbled last week for the first time since early March.
A growing sense of economic optimism has lifted shares since the March 9, multi-year lows that many market pros think represent a bear market bottom.
But last week brought more bad news than good in the form of weaker-than-expected reports on retail sales, housing and weekly jobless claims.
In addition, Chrysler said it was cutting around 25% of its dealerships and GM announced that it was cutting the first 1,100 of what is expected to be a 40% cut of its dealerships. GM remains on the brink of bankruptcy as it struggles to gain concessions from creditors and its union by the end of the month.
Investors took all the news as a collective hint that maybe Wall Street has gotten a bit ahead of itself in betting that the worst is over.
The week ahead brings uncertainty as investors sort through reports on housing, leading economic indicators, jobless claims and a slew of profit reports from retailers.
"There's a lot coming up in the week ahead to either confirm that we're recovering or rolling over and softening again," said Phil Orlando, chief equity market strategist at Federated Investors.
He said that after stocks, as represented by the S&P 500, gained more than 35% in nine weeks, the market was due for a healthy pullback. Last week may have been it, but there could be a bigger retreat brewing over the next few weeks.
On the docket
Monday: Lowe's (LOW, Fortune 500) is due to report quarterly results before the start of trading. The home improvement retailer is expected to have earned 25 cents per share, versus 41 cents a year ago.
Tuesday: April reports on housing starts and building permits are due. Housing starts are expected to have risen to a 527,000 unit annual rate from a 510,000 unit annual rate in March.
Building permits, a measure of builder confidence, are expected to have risen to a 530,000 unit annual rate from a 516,000 unit annual. rate in March.
Lowe's competitor Home Depot (HD, Fortune 500) is expected to report earnings of 28 cents per share before the start of trading, down from 41 cents a year ago.
After the close, Hewlett-Packard (HPQ, Fortune 500) is expected to report a profit of 86 cents per share versus 87 cents a year ago.
Wednesday: Retailer Target (TGT, Fortune 500) is expected to report a profit of 59 cents per share, down from 74 cents a year earlier, when it releases results in the early morning.
Treasury Secretary Timothy Geithner is expected to testify before the Senate Banking Committee about the government's bank bailout plan.
The minutes from the late-April Federal Reserve policy meeting are due for release. At that meeting, the central bank opted to hold rates steady at historic lows near zero, but issued a more optimistic outlook on the economy than it had in recent weeks.
Thursday: The April index of leading economic indicators is due in the morning. LEI is expected to have rise 0.6% after falling 0.3% in the previous month.
The weekly jobless claims report from the Labor Department is due before the start of trading. The Philadelphia Fed index, a regional manufacturing report, is due after the start of trading.

Features

These Fortune 100 employers have at least 350 openings each. What are they looking for in a new hire? More

It would be the world's second-biggest economy. See how big companies' sales stack up against GDP over the past decade. More