Obama's top 10 stocks
According to the latest disclosure from the White House, President Obama is a fan of index-fund investing. See the stocks in his main holding.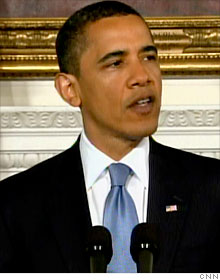 NEW YORK (CNNMoney.com) -- When it comes to policy, President Obama is moving like lightning. But when it comes to his investments, he's playing it cool.
Obama holds the bulk of his investing assets in U.S. Treasury bonds, with a range of between $1 million and more than $5 million, according to a disclosure of personal financial interests released Friday.
He also has between $101,000 and $265,000 in two checking accounts.
To save for his kids' college tuition, he has between $100,000 and $200,000 in two 529 savings plans from Bright Directions: One for children up to 8 years old and one for those between 9 and 12.
The vast majority of his mutual fund holdings are in the Vanguard FTSE Social Index fund (VFTSX), with a range of between $115,000 and $250,000.
According to the Vanguard site, the fund consists of mostly U.S. large and mid-sized companies that meet certain social and environmental criteria. The index tracks the performance of the FTSE4Good US Select.
The fund's Top 10 holdings, according to the Vanguard site are:

Features

These Fortune 100 employers have at least 350 openings each. What are they looking for in a new hire? More

It would be the world's second-biggest economy. See how big companies' sales stack up against GDP over the past decade. More