Union reluctant to grab wheel in Detroit
The United Auto Workers union could end up owning a majority of Chrysler and a large stake at GM. But it's not happy about that.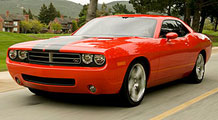 Get ready for a truly amazing fire sale. Many doomed Chrysler dealerships are stuck with some decent cars and trucks on their lots that they need to unload by June 9.
NEW YORK (CNNMoney.com) -- The current plans to restructure General Motors and Chrysler LLC will leave the United Auto Workers union in the driver's seat at both companies. But it appears that the union would rather be in the back seat.
The UAW is set to receive a 55% stake in Chrysler through its union trust fund once that automaker emerges from bankruptcy. The trust fund will also likely get up to 38% of GM's stock as part of its reorganization.
But that doesn't mean the union will be calling the shots at either company. In fact, UAW president Ron Gettelfinger said the union hopes to sell its stake in both companies quickly because he is more interested in raising cash to cover retiree health care costs than having an ownership stake in GM (GM, Fortune 500) and Chrysler.
"Let somebody else take the stock. Give us the money," Gettelfinger said at a recent press conference. "We are trading debt for equity, and what is the value of the equity? Let's be honest, it's zero today."
Since the trust fund, and not individual union members or the union itself, will own the stakes in GM and Chrysler, it is expected that the UAW will not use its newfound role as a large shareholder to push for major changes at either company.
The trust fund will only name one member of Chrysler's new board, even though it will have a majority stake in the company. Italian automaker Fiat, which is also getting a stake in Chrysler as part of its bankruptcy, is expected to make the key decisions on the direction of Chrysler.
The composition of GM's new board is not yet settled.
But the union's reluctance to take an active ownership role in either company is nothing new. When the UAW got a more direct stake Chrysler during a federal bailout of that company in the 1980s, it also sold the stock as soon as possible to compensate members for concessions they had made in labor contracts.
The UAW also has never pushed for board membership in negotiations, even when it was being asked for wage concessions.
Experts say union leaders are worried about being in an uncomfortable position of being blamed by membership if management of the automakers needs to make additional plant closings or layoffs down the road to be competitive. Both GM and Chrysler have already signaled plans to do.
"I see it as a major problem for the UAW," said Gary Chaison, professor of industrial relations at Clark University in Worcester, Mass. "They didn't intend on owing a failing company. They want to remain the workers' bargaining agent, not their employers."
Gettelfinger has insisted the union will not be making decisions at the automakers. The union, which is currently involved in labor talks with GM, said the union will still have its traditional role of protecting workers and jobs, not making decisions about product development, marketing or allocating company resources.
"Those kinds of [decisions] do not belong to us. [They] never have and they don't now," he said.
Experts in employee ownership agree that the UAW is unlikely to shape future corporate strategy at either Chrysler or GM.
"Simply having a lot of stock is not real employee ownership," said Rutgers University professor Joseph Blasi, a leading expert on employee ownership. "Given that the UAW trust is only going to get one seat on the [Chrysler] board, the strategic direction of the company will come from a more diversified board."
Because the union is unlikely to have a significant number of allies on either company's board, Blasi added that there is little chance that the union will be able to block more plant closings or layoffs.
"Employee owned companies are run by professional management teams. They're not run by worker collectives," said Blasi.
Blasi said he's disappointed the union isn't more willing to take an active ownership role at Chrysler and GM though.
He understands that the UAW has to sell much of the stock it is receiving in order to protect retirees. Still, he pointed out that the UAW could use its ownership stake to create a more productive partnership between management and labor.
"It shouldn't be a situation of all or nothing," said Blasi.
But Harley Shaiken, a University of California professor who is an expert on the UAW, said the union still has more leverage with Chrysler and GM now than previously.
That's because the union, which has often tended to endorse Democrats, will probably be able to lobby more successfully for favorable treatment from the government going forward than the automakers would themselves. So it is in the best interests of management at GM and Chrysler to keep the union happy.
"The automakers need the UAW's clout in Washington, especially with the Democratic administration and Congress," he said. "Absent that, they're in a much more vulnerable position."

Features

These Fortune 100 employers have at least 350 openings each. What are they looking for in a new hire? More

It would be the world's second-biggest economy. See how big companies' sales stack up against GDP over the past decade. More