Extreme skiing through the recession
A group of adventure-seeking entrepreneurs embarks on the wildest journey of all - launching a high-end travel company in the middle of an economic meltdown.
Photos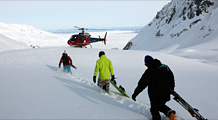 Photos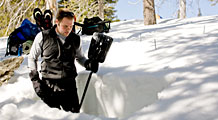 Photos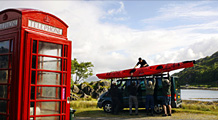 TORDRILLO MOUNTAINS, Alaska (Fortune Small Business) -- I am standing near the peak of a craggy, white-capped mountain in Alaska. With me are three world-class adventure-sports athletes.
Big-wave surfer Dave Kalama clicks into his skis while surf superstar Laird Hamilton straps on an unusually long snowboard in the knee-deep snow. A few yards away, tromping to the edge of a cliff to survey our exit options, is Jeremy Jones, Snowboarder magazine's eight-time Big Mountain Rider of the Year. The bright red and blue A-Star helicopter that just deposited us here takes off in a blur of white powder, spins 180 degrees and disappears over a spiny ridge.
We peer from a tiny knoll down thousands of feet into the Triumvirate Glacier, the second largest in Alaska. This rippled ice leviathan winds 30 miles through the Tordrillo Mountains, a section of the Alaska Range 60 miles west of Anchorage.
Overhead the sky is bright blue, cloudless. The landscape below is blinding white. Even this crew, made up of veteran adventurers of the world's most beautiful places, can't find adequate words.
"You can't believe how big this place is," says Kalama, 44, one of a dozen or so humans capable of riding 50-foot-plus waves. "A picture doesn't do it justice."
Hamilton, 45, nods in agreement. "The magnificence of it puts everything in perspective," he says. "It shows how insignificant we are - specks on a sphere."
Jones, 34, is busy navigating his way to a line that seems hairy even for experts. Fortunately, he has almost two decades' experience surviving dangerous descents. Hamilton follows him, asking no questions. "More than anyone I know, Laird has the ability to get himself into impossible situations," says Kalama, "and to get out of them unscathed."
Our guide is Mike Overcast, 39. Since 1997 he has been a partner in Girdwood, Alaska-based Chugach Powder Guides (CPG), which specializes in heli-ski tours in the Alaskan wilds. It's the only firm currently operating on 1.4 million remote acres in the Tordrillo Mountains. (They've also licensed the heli-ski rights to a massive swath of land near Girdwood base.)
In February, Overcast and his partners launched EpicQuest, a high-end adventure-tour operator that aims to replicate CPG's heli-ski model - singular, once-in-a-lifetime trips - and expand it into a year's worth of outdoor sports.
The idea was born on a riverbank in the foothills of the Tordrillos, during one of CPG's annual Kings and Corn trips. In these popular June jaunts, guests take advantage of Alaska's midnight sun to fish for king salmon in the morning and ski on "corn" (slang for a type of soft and sugary spring snow) into the night. While waiting for a king to bite, Overcast complained to a client, Craig Pattee, president of Washington, D.C., lobbying firm Dutko Worldwide, that CPG wasn't realizing its potential. For a small part of the year, Overcast had access to an enviable client base - CEOs, entrepreneurs, even billionaires - but he needed investors to expand the business and capitalize on his clientele's thirst for adventure.
"Heli-skiing is such an intense experience," says Pattee, 44. "For a week these clients are on a drug. You've got the most desirable consumers, feeding them the equivalent of crack cocaine, then you send them away. How crazy is that?"
Pattee provided more than just a receptive ear. He signed on as a founding partner in the new company and helped raise about $3 million from investors. He and Overcast acquired Sun Valley Heli Guides, in Idaho, to give them a heli-ski and fishing operation in the Lower 48. And they opened an office in Verbier, Switzerland to offer heli-assisted touring in the Alps.
Building on CPG's limited offerings, EpicQuest plans a calendar's worth of seasonal trips for the wealthy, adventurous traveler: fishing expeditions inside a wildlife refuge 12,000 feet above sea level on Mount Kenya, a horseback safari in Kenya that will give clients a front-row seat to Africa's great wildebeest migration, and a quest for big waves in the Pacific Ocean aboard a luxurious surf yacht rarely made available to the public. These trips will run in the range of $1,000 to $1,500 a day. For a little extra, clients can get what Pattee calls the "backstage pass" - going surfing (or snowboarding) with professional athletes like Hamilton, or skiing with Olympic gold medal winner Tommy Moe.
A close community
For more than an hour, Hamilton has been sweating over a hole in the ice atop a frozen lake next to the Tordrillo Lodge. Braving the single-digit temperatures in a T-shirt and ski pants, he and Overcast toil with a gas-powered auger and a chain saw, cutting away at the five feet of ice. They finally break through, creating a frigid plunge pool that freezes over every 15 minutes. The icy waters are crucial to Hamilton's daily cleansing ritual: He alternates stints in the lodge's 150°F sauna with dips in the 32°F water. By the second day of our trip, he's persuaded all 12 guests - including Marius Mueller and Thomas Kleger, both Swiss entrepreneurs - to try the ritual, swearing that it strips toxins and provides a natural high.
"When is this pool ready?" Kleger asks as the pair glide over after spinning around the lake on cross-country skis.
"By the time you get your bikinis on," Hamilton says.
"We are Swiss," Kleger responds. "We wear Speedos."
The world of adventure sports is a close-knit community: Hamilton is a veteran of the Kings and Corn trip; Kalama is one of his best friends; and Moe, 39, is a part owner of the Tordrillo Lodge, where we're staying for the duration of this trip. "The basis of this whole business is friendship," says CPG co-founder Chris Owens, 39.
Friends or not, business partners, especially in this economic climate, need to be pragmatic. CPG has about 60 employees and $4 million a year in revenues, but the company is expecting a 30% downturn this year. So EpicQuest is moving forward with a scaled-back menu, offering five fishing destinations instead of 20, as originally planned. However, they're choosing the five most exclusive trips - not the most affordable.
While there's no question that these are challenging times for most businesses, there are opportunities too.
"Economic realities have slowed luxury travel," says Donna Quadri-Felitti, an assistant professor at NYU's Tisch School for Hospitality, Tourism and Sports. "But things like adventure travel, which are costly but enriching, stand a better chance of being well positioned in this marketplace. Authenticity and unique experience - it's a big part of why we travel."
Our final day in the Tordrillo Mountains begins with a scary but thrilling descent down a couloir bordered by walls of icy brown rock. After five minutes of white-knuckle turns, the slope opens and we find ourselves in a giant field of powdery snow. Tired but exhilarated, we spy our helicopter circling around for the pickup. Our guide for the day, Greg Harms, raises his arms and signals the pilot in for a landing on a field of blinding white snow.
The pilot flies us to meet two other groups of skiers, who are already enjoying smoked Alaskan salmon sandwiches a few thousand feet up a knife ridge. To one side, a craggy cliff face drops precipitously some 500 feet; to the other, the mountain slopes down toward the rippled, sapphire-colored Capps Glacier. Harms suggests we try the mountains on the far side, and after lunch the pilot leaves us on a barren, crusty plain, riddled with icy snowdrifts hardened by recent winds.
After a few minutes of uncomfortable skiing, Harms finds us a field of perfect snow. Soon the veteran guide plunges 2,000 feet to the glacier floor and starts scouting ahead for crevasses and other hazards. Via radio, he tells us to stay "just right of my track." Then he pauses. "I want you to really space it out, one at a time, on my signal," he instructs. "Because if this thing goes" - as in an avalanche - "I only want one person in there to deal with."
Kalama smiles nervously. "You know, he could have left that last part out and I'd have been just fine," he says. "Like, 'One at a time. Space it out.' I don't need to know why." Jones points to the lone track in all that snow and gestures for me to go. As I point my board downhill, he offers a thumbs-up and reminds me, "Speed is your friend."
The descent is exhilarating, through snow that's deep and fluffy, and each turn kicks up a wave of powder that temporarily clouds my line of sight. As I slide to a stop at the bottom, Harms greets me with a high five. "That's what heli-skiing is all about."
"What's that run called?" I ask.
He pauses for a second and thinks. "What do you want it to be called?"

Photo gallery: Skiing the Tordrillo Mountains

To write a note to the editor about this article,
click here
.