Oil retreats from 6-month high
Crude futures hang around $60 a barrel, pulled lower by a triple-digit sell off in the Dow and a stronger greenback.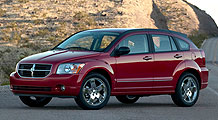 Chrysler was king of the hill with its 300 series just a few years ago. Oh how the mighty have fallen.
NEW YORK (CNNMoney.com) -- Oil prices sank Thursday, retreating from six-month highs reached in the previous session, as all three major U.S. stock indexes fell hard and the U.S. dollar gained ground.
Light sweet crude for July delivery fell 99 cents, or 1.6%, to settle at $61.05 a barrel Thursday. Wednesday, oil settled at $62.04 a barrel, marking the the highest since settlement since Nov. 10.
Crude oil prices have been closely tracking stocks in recent months. The stock market serves as a measure of the overall health of the economy, and a more robust economy drives up the price of oil because it demands more energy.
Stocks fell Thursday as investors reassessed the health of the economy and the speed with which it could recover. A report from the Labor Department showed that even while initial filings for unemployment benefits dipped slightly in the most recent week, the number of people continuing to receive unemployment benefits hit a record high for the 16th straight week.
An updated outlook on the economy from the Federal Reserve released Wednesday afternoon continued to plague investor sentiment as well.
As part of the minutes from its April meeting, the central bank said it expects unemployment to rise to between 9.2% and 9.6% this year. It also predicted gross domestic product, the broadest measure of the nation's economic activity, to fall between 1.3% and 2% this year.
A stronger greenback also weighed on oil prices. With crude oil traded in dollars around the globe, a stronger greenback makes oil more expensive in other currencies. The dollar was getting a strong flight-to-safety bid Thursday, as did Treasurys.
A report from the ratings agency Standard & Poor's lowered its outlook on Britain to negative, indicating that the nation's debt could near 100% of GDP.
"That report gave strength to the dollar overnight and temporarily brought oil back down overnight," said Phil Flynn, senior market analyst at Alaron Trading, in a daily research note.
While a report from the government Wednesday posted a dip in stockpiles of both crude oil and gasoline, the recession has cut into demand so drastically that a glut of oil nonetheless remains. The supply glut and shrinking demand has pulled the price of oil down from $147 a barrel last summer to a low just shy of $34 a barrel in December.
As oil has climbed back to $60 a barrel, the pain at the pump has followed suit. On Thursday, a gallon of regular unleaded gasoline jumped almost 3 cents to $2.362 a gallon, according to a daily survey by motorist group AAA.
The jump marked the 23rd consecutive daily increase in gas prices. During that run up, the average price of gas has increased 31.4 cents, or 15.3%. The average price of a gallon of gas is down $1.75 or 42.5% from the record high price of $4.114 that AAA reported on July 17, 2008.

Features

These Fortune 100 employers have at least 350 openings each. What are they looking for in a new hire? More

It would be the world's second-biggest economy. See how big companies' sales stack up against GDP over the past decade. More