Stocks snap 4-session losing streak
Wall Street cheers signs that consumers' moods brightened in May, offsetting a dour housing report.
Bailout tracker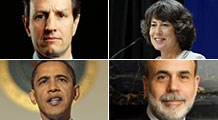 The government is engaged in a far-reaching - and expensive - effort to rescue the economy. Here's how you can keep tabs on the bailouts.
More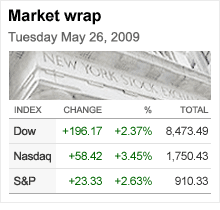 NEW YORK (CNNMoney.com) -- Stocks soared Tuesday, with the Dow gaining nearly 200 points after a report showing consumer confidence hit an eight-month high offset dismal housing news.
The Dow Jones industrial average (INDU) jumped 195 points, or 2.3%, according to early tallies. The S&P 500 (SPX) index gained 2.6%. The Nasdaq composite (COMP) gained 3.4%.
Tuesday marked the first time the Dow and S&P 500 closed in positive territory since May 18.
Stocks opened lower on concerns about North Korea, which had test-fired missiles after conducting a nuclear test Monday, along with worries over a report that showed a record plunge in U.S. home prices.
But a much stronger than expected consumer confidence reading offset those concerns and encouraged investors to jump back into the market after several down days.
The rally was broad-based, with 28 of the 30 Dow components advancing. IBM (IBM, Fortune 500), which jumped 3%, led the gainers.
Shares of energy producers rose as the price of oil closed at a 6-month high, above $62 a barrel. Consumer names, such as McDonalds (MCD, Fortune 500) and Wal-Mart (WMT, Fortune 500), also advanced.
The dollar, which slumped to a 5-month low last week, regained some ground against the euro. Gold prices retreated.
While Tuesday's consumer confidence report helped revive the optimistic tone that has driven stocks about 30%higher over the last few months, it could be hard for the market to keep that momentum going in a week full of key economic indicators.
A report on existing home sales is due shortly after the opening bell Wednesday. Durable goods orders and a revision of the first-quarter gross domestic product report are also on tap this week.
"We want to see more-constant positive economic numbers over a sustained period of time," said Stephen Carl, head of equity trading at Williams Capital Group.
Economy: The Conference Board's Consumer Confidence Index rose to 54.9 in May from 40.8 in April. Economists surveyed by Briefing.com had expected the index to rise to 42.
The index now stands at its highest level since September, when it reached 61.4. But that's still low by historical standards.
The report was "a good sign," said Todd Leone, head trader at Cowen & Co. "We definately saw buyers come into the market."
Investors pay close attention to measures of consumer confidence because spending by consumers makes up the bulk of U.S. economic activity.
"We are recovering slowly," Leone said. "It's going to take time, and this is just one number."
Separately, a closely watched index of home prices dropped a record 19.1% in the first quarter.
The S&P/CaseShiller Home Price Index, which tracks 20 of the largest housing markets, has plummeted 32.2% from its July 2006 peak and has declined for 32 straight months. It fell 18.2% in the previous quarter.
Companies: Investors are waiting to hear more about the fate of General Motors (GM, Fortune 500) and Chrysler.
Tuesday marks that last day that GM bondholders, who hold $27 billion in unsecured debt from the company, can accept an offer to swap $1,000 of the debt for 225 shares of the company. GM faces a June 1 deadline to produce a turnaround plan or file for what would be the largest industrial bankruptcy in the nation's history.
The leadership of the United Auto Workers union met Tuesday to review the tentative agreement reached last week with GM on changes to its 2007 labor deal. A source familiar with the agreement told CNNMoney.com that the union-controlled trust fund will receive a 17.5% stake in GM as a result of the deal.
Shares of GM rose 0.7%.
Meanwhile, the federal judge in Chrysler LLC's Chapter 11 case could decide Wednesday whether the automaker can pull its best-performing assets out of bankruptcy and sell them to a newly formed incarnation of itself, called Chrysler Group.
In other company news, shares of Apple (AAPL, Fortune 500) rose 6% after analysts at Morgan Stanley upgraded the iPhone maker's stock.
Bonds: Treasury prices slipped, with the yield on the benchmark 10-year at 3.51%. Treasury prices and yields move in opposite directions.
The Treasury sold $40 billion in 2-year notes Tuesday, kicking off a week packed with debt auctions. The 2-year note sale was strongly bid for, with $117.5 billion in bids coming in for $40 billion in debt.
Other markets: Oil for July delivery rose 68 cents to settle at $62.45 a barrel ahead of an OPEC meeting later this week. Traders expect the cartel to leave output unchanged at the meeting. Oil prices have settled above the $60 mark for four straight sessions and are now at a more than 6-month high.
In currency trading, the dollar was mixed against its major trading partners. The greenback rose against the euro but fell against the pound and the yen.
COMEX gold for June delivery fell $5.60 to settle at $953.30 an ounce.

Features

These Fortune 100 employers have at least 350 openings each. What are they looking for in a new hire? More

It would be the world's second-biggest economy. See how big companies' sales stack up against GDP over the past decade. More