States race clock on $19B in stimulus
States must spend 50% of their highway stimulus funds by the end of June or risk forfeiting millions of dollars.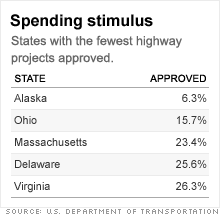 Map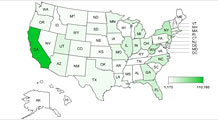 NEW YORK (CNNMoney.com) -- Some 14 states have only a few weeks left to gain approval for highway projects or risk losing millions of stimulus dollars.
All states have until the end of June to "obligate" half their share of stimulus funds for road and bridge improvements. If they don't, the federal Department of Transportation will redistribute half the leftover money.
That means states must gain approval for their projects from the Federal Highway Administration, an agency of the Department of Transportation. The money doesn't actually have to be spent, which can take months as projects go through the contracting and construction process.
States are sharing $26.6 billion for highway infrastructure projects, though only $18.6 billion is subject to the June deadline. The road allocations are among the earliest of the $280 billion in funds going to states and municipalities as part of the $787 billion recovery act.
While many states have safely cleared the hurdle, several have to buckle down in coming weeks if they hope to reach the 50% mark.
Alaska has only obligated 6.3% of its $122.8 million in funds, while Ohio has gained approval for only 15.7% of its $648.2 million share, as of May 22, according to the department.
These states' progress stands in sharp contrast to places such as Wyoming, which has already won approval of 97.5% of its $110.3 million share.
Federal transportation officials are in close contact with their state counterparts to review and sign off on applications, said Joel Szabat, who co-leads the recovery effort for the department. They are approving nearly $1 billion in projects a week, nearly twice the typical rate.
More than 3,500 projects nationwide have already received the nod. Some states have dozens of projects approved in a day.
"One of our biggest focuses is that every state meets that deadline and is not penalized," Szabat said. The agency is "highly confident that every state will have over 50% obligated by the time the 120-day deadline comes around."
Ohio's unusual path
Ohio transportation officials know they are moving at a slower pace than many of their peers elsewhere in the nation. That's because they took a unusual path to decide what projects to fund, said Scott Varner, the state department's spokesman.
The state received 4,600 ideas after soliciting proposals from cities, counties and people. It then narrowed the list down to 2,200 eligible for federal funding, before choosing 200 to invest in.
The Buckeye State is also seeking to fund some non-traditional projects as part of its highway allotment. For instance, it won approval to spend $6.8 million on replacing a shipyard crane in Toledo, which supports ship maintenance and vessel construction projects and will create or save 187 jobs. It is also hoping to get the okay on a $20 million investment in design work for Cleveland's Opportunity Corridor, aimed at improving access from the city's central east side to the freeway.
These initiatives required closer collaboration with federal officials since they aren't the typical road repaving and bridge replacement work, Varner said.
"It did take a little more time in part because we had to work with our Federal Highway Administration office in Ohio," he said.
Still, state officials say they are not concerned they will miss the deadline. They are receiving approval for millions of dollars worth of projects a week, and have more than $50 million before federal reviewers now.
"We know which projects we have planned to meet the 120-day deadline," Varner said. "We think we're on target."
Still, the delay has meant shovels have yet to hit the Ohio roads. The state has awarded two contracts and expects to approve up to 20 more by week's end. Construction should start within the next month.
Wyoming working double-time
In Wyoming, transportation officials have sped up their contracting process in recent months. Work began on some projects in early May.
Normally, it can take six weeks for the state to advertise projects and for contractors to submit bids. Now it takes only three weeks. Also, the Wyoming Transportation Commission meets twice a month to award contracts, rather than just once.
As a result, the state has obligated nearly all of its stimulus funds for highway projects. And, officials feel that the rapid pace has brought in more competition, especially from out-of-state companies. Instead of having just two or three bidders per project, it is now seeing seven on average. And bids are coming in below estimates, freeing up money to fund more projects.
"If we could get our jobs out the door quicker, we felt we could get more competition from contractors," said Del McOmie, chief engineer for the Wyoming Department of Transportation.

Features

These Fortune 100 employers have at least 350 openings each. What are they looking for in a new hire? More

It would be the world's second-biggest economy. See how big companies' sales stack up against GDP over the past decade. More