Dell: Profit slows as PC sales sink 34%
A slowdown in PC and laptop sales pressured Dell's bottom line; revenue of $12.3 billion missed estimates. Company says environment remains 'challenging.'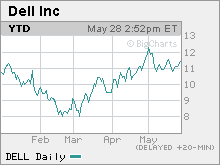 NEW YORK (CNNMoney.com) -- Dell Inc. reported a sharp drop in first-quarter sales and earnings Thursday amid a 34% drop in PC sales.
The company said it was readying for an industrywide turnaround but cautioned that the environment is still "challenging."
"What we're seeing is a big deferral of purchases among corporations, but they're planning on a pretty big 2010 client refresh," said Dell founder and Chief Executive Michael Dell on a conference call with analysts. "Customers will be very focused on new technology, and virtualization ... and we think there are some big opportunities there."
The company expanded its services capabilities during the quarter. For example, it started offering cloud-computing services for monitoring and managing IT networks to small and medium businesses. Dell had previously provided those services only for large customers.
Still, Dell said the road ahead will remain bumpy.
"We don't believe there's enough momentum to call a bottom yet," said Dell's finance chief, Brian Gladden, on the conference call. "Businesses have been conservative with IT budgets and we believe they will be slow in coming back."
Declining profit and sales. The company said first-quarter net income fell 63% to $290 million, or 15 cents per share, for the period ended April 30.
Results included a charge of 9 cents per share for cost-cutting expenses. Without the charge, Dell earned $475 million, or 24 cents per share. Analysts polled by Thomson Reuters, who typically exclude one-time items from their estimates, had expected a profit of 23 cents per share.
Sales fell 23% to $12.3 billion, narrowly missing analysts' forecasts of $12.7 billion. Along with its dismal PC sales, Dell's laptop sales slumped 20% year over year.
The Round Rock, Texas-based company is the world's second largest PC maker, taking in about 60% of its revenue from selling desktop computers and laptops. By comparison, computer sales account for just a third of rival Hewlett-Packard's (HPQ, Fortune 500) revenue.
Shares of Dell (DELL, Fortune 500) rose 1% after hours.
Seeking diversity. Dell is trying to better diversify its products, especially by expanding its software and services divisions. Consumers and businesses are pinching pennies, and hardware sales have fallen dramatically industrywide. As a result, companies that sell service contracts or online software have a leg up.
"Dell clearly doesn't have the broad depth that its competitors do," said John Enck, Dell analyst at Gartner. "They're primarily hardware based, and that restricts their opportunities."
Currently, Dell's services sales account for just 9% of the company's revenue, but earlier this month Dell said it is committed to growing that share. By comparison, HP's quarterly services accounted for 31% of its revenue, and IBM's (IBM, Fortune 500) was 14% of its quarterly sales.
Long slump for PCs. Dell's dependence on computer sales has burdened the company, especially since business users drive about 80% of Dell's overall revenue. Amid a deep and prolonged recession, businesses have been trying to extend the life of their computers to save money.
Dell reported large enterprise revenue fell 31%, and small to medium business sales fell 30% in the quarter.
"Businesses are trying to not spend money on capital expenses, and one way to do that is to increase the lifecycle of their desktops to four or five years rather than the typical three," said Enck. "Most corporations don't need more horsepower on their desktops anyway."
Enck said Dell needs to prepare for a lengthy downturn in computer sales, since most Dell computers run Microsoft's Windows operating system. Sales of the latest OS, Vista, were largely disappointing, and most businesses continue to run the previous OS, Windows XP, which debuted in 2001.
Though Windows 7 is scheduled to be released early next year, which should drive consumer demand back up, Enck said it usually takes six to nine months of compatibility testing until businesses begin to adopt a new OS. As a result, Enck said the PC market slump could last until at least the third quarter of 2010.
Michael Dell agreed that a technology refresh cycle is about "9 months to a year out," but he said demand will likely pick up quite sharply when companies are ready to replace old computers, on new Intel (INTC, Fortune 500) and Microsoft (MSFT, Fortune 500) product releases scheduled for next year.
Dell is also the world's third-largest server maker, maintaining an 11% market share, according to IDC. But the company still lags behind rivals HP and IBM, which both maintain a more than 29% share.
Cost cutting. To weather the storm, Dell said it would continue its aggressive cost-cutting campaign.
"Re-establishing cost leadership and having flexibility to invest in our business will position us well as IT spending improves," said the company.
Dell raised its cost-reduction target in February to $4 billion from $3 billion and said Thursday it will try to go beyond $4 billion this year. The company said it already has implemented about $1.8 billion in operating expense reduction.
The company said 50% of its shipped products have been cost-reduced, with the average cost per unit reduced 2% quarter over quarter and 10% since the first quarter of 2008.
The company said it is making its supply chain more efficient by opting for outsourced manufacturers to manage operating expenses. Analysts expect operational changes to continue, rather than mass layoffs.
"It certainly will be enough to weather the storm, and Dell has always done well to control costs," said Enck. "The problem is it hamstrings Dell's ability to get into services, which is an expensive business to get into. It can't do both, and that's the dilemma Dell faces."

Features

These Fortune 100 employers have at least 350 openings each. What are they looking for in a new hire? More

It would be the world's second-biggest economy. See how big companies' sales stack up against GDP over the past decade. More