What's GM worth?
Taxpayers, the union and bondholders - GM's new owners after bankruptcy - are eager to find out. But it's uncertain how the market will value a new GM.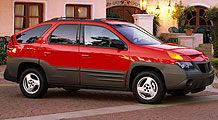 Over its history General Motors has made its share of bad products. Some were poorly built, some were badly executed, others suffered from lousy timing.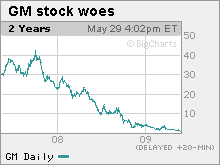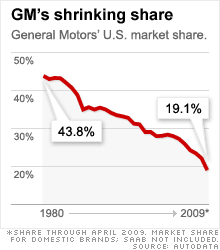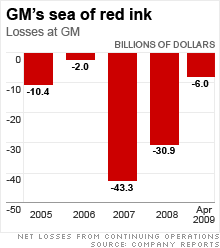 NEW YORK (CNNMoney.com) -- Once the bankruptcy process at General Motors plays itself out, what will the company be worth?
It's more than an academic question of interest only to Wall Street traders. It will determine how much money taxpayers can expect to recoup from multiple bailouts of GM. When all is said and done, the Treasury Department is likely to pump more than $50 billion into GM (GM, Fortune 500) -- including loans made to the automaker last year.
It is also key to determining the level of future health insurance benefits for hundreds of thousands of GM retirees and how much money holders of $27 billion on GM bonds, including pension funds and individual investors, will be able to recover.
GM is widely expected to file for Chapter 11 bankruptcy protection on Monday. As a result, the government, bondholders and a trust fund controlled by the United Auto Workers union will wind up owning virtually all the stock in a reorganized GM. (Current GM shareholders will essentially have their holdings wiped out through bankruptcy.)
So taxpayers, retirees and bondholders need for shares of a new, leaner GM (GM, Fortune 500) to start trading for them to stand any chance of benefiting from the company's emergence from bankruptcy. Unfortunately, these new owners probably won't know until at least 2010 just how much money, if any, they will recover.
GM's most efficient plants, dealerships, brands and other assets could exit bankruptcy within two to three months.
However, it will take at least 6 to 18 months for the bankruptcy court to wade through the company's unprofitable plants, most of its debts and other liabilities, according to a senior Obama administration official. During that time GM stock is unlikely to be publicly traded.
But even once shares of GM do begin trading again, it's highly uncertain what the company could be worth.
$25 billion: too high or unreasonably low?
According to a filing by General Motors late last month, the company estimated the equity value of its common stock would be about $25 billion once it completed a reorganization.
That's substantially higher than the market value of about $450 million that GM was worth based on Friday's closing stock price of just 75 cents a share. But the last time GM was worth as much as $25 billion was late 2007.
A new company, with a greatly reduced debt burden, fewer plants and lower labor costs, could end up being an attractive investment. But auto analysts and other experts are reluctant to speculate on exactly what GM's value could be following bankruptcy.
Len Blum, managing director of Westwood Capital, an investment bank, said he thinks there's a better chance for taxpayers to recover money from their investment in GM than with insurer AIG. Taxpayers also have a majority stake in that company, and the government has kicked in more than $180 billion so far to keep AIG afloat.
Blum said that given the reduction in GM's debt level and operating costs that are being planned, there could be "some real value" in a new GM, but that there was still great risk for all shareholders.
"If it was a slam dunk, the union would have wanted more common equity," he said. The UAW wound up agreeing to a 17.5% stake.
Other experts question whether cost cutting and a lower debt load are enough to make the company attractive to investors, even if it they enable GM to earn its first profit on its auto operations since 2004.
"Back in 2007 GM was being valued on its future prospects and its assets, not its profitability," said Chris Jadro, an equity strategist focusing on distressed companies for Jefferies & Co. "But it's just hard to imagine that GM will be worth what it was a year ago coming out of this down cycle."
The two biggest shareholders of the new company also expressed doubts about how quickly the stock will recover.
A senior Obama administration official speaking to reporters Thursday conceded it is unlikely that the government can get back its entire investment in GM. The official said the government hopes "to recover as many taxpayer dollars as we can," and that it expects to sell the shares as soon as possible.
UAW President Ron Gettelfinger, who also said he would like to sell the union's stake in GM as soon as possible to have money available in the trust fund, downplayed expectations about the company's value going forward.
Although he said Friday that the union believes "the stock should be worth a lot more a lot quicker," he added that "right now, we realize the value is zero."
Some auto industry experts believe that the changes made by GM could position it for a level of profit it hasn't earned in decades. David Cole, chairman of the Center for Automotive Research, said GM is well-positioned for even a modest rebound in industrywide sales.
Carr said the $25 billion market value estimate "is pretty reasonable and it could even be conservative." He said that profits for GM and the rest of the industry could be robust in the next few years due to reductions in capacity and pent up demand for autos.
But a number of experts doubt that GM's market value will get anywhere near the $25 billion figure in the next few years. They point out that GM will face a difficult competitive position compared to cash-rich Toyota Motor (TM) and even U.S. rival Ford Motor (F, Fortune 500), both of which could pass it in terms of U.S. sales in the coming years as GM sheds brands and dealers.
Sean Egan, managing director of rating agency Egan-Jones Group, said he's not sure GM can generate a profit even with all the cost concessions they've received from the union.
"In almost every competitive front, GM is being beaten. People who see strong profits for GM are being delusional," Egan said.
But Susan Helper, an economics professor at Case Western Reserve University in Cleveland and expert on the auto industry, worries that even if GM does return to profitability following bankruptcy, investors could penalize the stock due to the company's previous problems and doubts about its future.
"It's tough to see there being a line of investors looking to get into the stock," Helper said.

Features

These Fortune 100 employers have at least 350 openings each. What are they looking for in a new hire? More

It would be the world's second-biggest economy. See how big companies' sales stack up against GDP over the past decade. More