Auto rupture will ripple far and wide
Turmoil caused by the meltdowns of GM and Chrysler is felt far outside Detroit: Dealerships and suppliers are bracing for an uncertain future.
Photos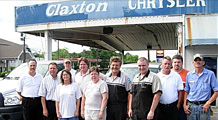 (CNNMoney.com) -- Chrysler and GM employees are on the edge of their seats, waiting to find out what will be left standing after the dust settles. Meanwhile, a vast network of companies outside Detroit are bracing for impact.
Ready or not, the thousands of dealerships and suppliers to the auto goliaths are going to feel the aftershocks of the industry's titanic shift. But the owners have mixed feelings about what the future holds for their companies.
Caught between the bankruptcy of Chrysler and the bankruptcy of General Motors (GM, Fortune 500) is Patrick Berrang of Waynesboro, Va., one of the nearly 800 dealers who received a note from Chrysler saying that his dealer agreement had been severed. Before he received the letter, 70% of Berrang's business was Chrysler vehicles and the remainder was GM brands such as Pontiac, GMC and Cadillac.
"I hope the judge is sympathetic," Berrang says of his petition to remain a Chrysler dealer. "I didn't see this coming at all. Now, they've only given me three weeks to shut down, but if I had sent in an application to become a Chrysler dealer, it would take more than three weeks for them to get back to me!"
GM has said it plans to pare its network of 6,000 dealerships to as few as 3,600 by next year, and Chrysler is seeking to terminate nearly 800 dealers. The jobs of tens of thousands of employees are at stake.
Berrang has 30 employees, but anticipates scaling that down to eight or fewer, depending on the outcome of his Chrysler petition and GM's bankruptcy ultimatums. He says that if GM cuts him loose, he'll be forced to sell only used cars to keep his business alive.
"The worst case scenario is losing both franchises. If that happened, it would take a miracle to seek and sign up with another franchise," Berrang says.
Suppliers are also in limbo at the moment, awaiting news of which vehicle lines will live to see another day. But while some suppliers are struggling to stay alive, others are well positioned to take advantage of the auto manufacturers' new business models.
Robert Adams, vice president of manufacturing at Camaco LLC, is excited to see that GM is focusing on cutting costs by direct sourcing from tier two suppliers like his company. Camaco makes seat frames, headrests and armrests and traditionally passes those parts to tier one suppliers who assemble them and pass the completed car seat to the OEM.
Several years ago, Camaco, based in Novi, Mich., started working directly with Ford, alongside Ford's tier one suppliers, to create seats for its new lines of cars.
"It didn't make us a tier one supplier, but it sort of made us a tier one-and-a-half supplier," Adams explains. "And the result was that we could get more direct access to the OEM, better take care of the engineering requirements and generally be more efficient."
Adams says that in his 40 years working in the automotive industry, this downturn is the most insidious yet. He has had to shrink overhead and reduce staff in areas of Camaco that make products for large vehicles. But he's optimistic that if GM emerges to follow in the footsteps of Ford (F, Fortune 500), his company will be poised to increase business with them.
Berrang hopes for his dealership's sake that GM, regardless of its new business model, will treat him better than Chrysler did if the company chooses to close his doors.
"I hope they will at least honor the current dealer agreements through October 2010," he says. "I hope they give us 60 to 90 days notice if they don't renew it, followed by a chance to appeal it."

To write a note to the editor about this article,
click here
.