Chrysler set to emerge from bankruptcy
Judge gives go-ahead for automaker to sell most of its assets to group led by Fiat. Indiana appeals ruling.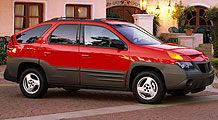 Over its history General Motors has made its share of bad products. Some were poorly built, some were badly executed, others suffered from lousy timing.
NEW YORK (CNNMoney.com) -- A bankruptcy judge has approved the sale of most of Chrysler's assets to a group led by Italian automaker Fiat, clearing the way for the automaker to emerge from Chapter 11 protection soon.
The ruling, which came just before midnight Sunday from Judge Arthur Gonzalez of U.S. Bankruptcy Court in New York, is the latest step in Chrysler's Chapter 11 process.
"The Fiat transaction was the only alternative available, and [a] better option, to liquidation," read the written ruling from Gonzalez.
The judge emphasized that Chrysler had actively pursued all available options "in the best interest of all their constituencies" before deciding upon the asset sale to Fiat and other entities.
Sunday's ruling helps Chrysler, which filed for bankruptcy protection April 30, meet President Obama's goal of completing the bankruptcy procedure within 60 days.
"Keep in mind, many experts said a quick surgical bankruptcy was impossible," said Obama, in a press conference on Monday. "They were wrong."
Obama emphasized the need to completely restructure Chrysler and General Motors through bankruptcy to rid them of unwieldy debt. While more job losses and plant closings are likely in the near future, Obama said "tens of thousands of jobs will be saved" as a result of the bankruptcies.
The process has been closely watched by General Motors (GM, Fortune 500), which filed for its own bankruptcy on Monday, just hours after the Chrysler ruling from Gonzalez.
If its court hearings bear any resemblance to Chrysler's, then GM should expect limited opposition to its bankruptcy, said Richard Tilton, corporate bankruptcy attorney and analyst for credit analysis firm Covenant Review.
Also, based on Chrysler's success, he said GM should be able to keep paying its "essential claims" for suppliers, warranties, customer incentives and dealer reimbursement programs throughout the bankruptcy process.
"I think the decision with Chrysler sets a nice precedent for GM," said Tilton, who is not involved in the case.
Opposition to the Chrysler deal
The Chrysler ruling capped three days of hearings that included six hours of testimony from Robert Nardelli, who is serving as chief executive during the bankruptcy process.
Much of the testimony featured cross-examination by lawyers representing three Indiana funds with a 1% stake in Chrysler that opposed the deal.
On Monday, the state of Indiana appealed the judge's ruling, on behalf of the pension funds for state police officers and teachers, as well as a fund for major construction projects.
"Unsecured creditors got better value than secured creditors, and that's wrong," said Indiana Treasurer Richard Mourdock.
Mourdock said his state would lose $43 million because of the bankruptcy, though the pensions for police officers and teachers are not at risk.
But Gonzalez wrote in his opinion that "the debtors are receiving fair value for the assets being sold."
"Not one penny" of the debtors' assets is going to anyone other than the senior lenders, he wrote.
How the Chrysler deal works
The judge's approval gives Chrysler the go-ahead to sell its best assets -- including its best-performing factories and dealerships -- to a newly formed incarnation of itself called the Chrysler Group.
The Chrysler Group will be controlled primarily by a United Auto Workers union trust, which will own a majority stake of 55%. Fiat will own 20% initially. Minority stakes would go to governments: 8% for the United States and 2% for Canada.
Fiat's stake will increase to 35% if it reaches certain goals. The Italian carmaker also has the right to eventually acquire an additional 16% by buying shares, but only if outstanding debts to the U.S. Treasury and Export Development Canada are paid.
The judge's ruling allows Chrysler to leave behind the assets that it doesn't want, including eight factories and franchise agreements with 789 dealerships, placing thousands of jobs in jeopardy.
To keep the company afloat, Chrysler received $4 billion from the Treasury Department in December and $4 billion more this year. But after many of the company's creditors rejected a debt-for-equity swap to help the company restructure, the Obama administration forced the automaker to seek Chapter 11 bankruptcy protection.
Gonzalez's ruling noted that time was of the essence in processing the bankruptcy.
"The government entities, the funding sources for the Fiat transaction, have emphasized that the financing offered is contingent upon a sale closing quickly," he wrote. "Moreover, if a sale has not closed by June 15th, Fiat could withdraw its commitment."

Features

These Fortune 100 employers have at least 350 openings each. What are they looking for in a new hire? More

It would be the world's second-biggest economy. See how big companies' sales stack up against GDP over the past decade. More