GM plant closings: 20,000 job cuts
Giant Michigan, Tennessee plants to shut. Workers in 9 states affected by cuts.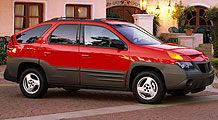 Over its history General Motors has made its share of bad products. Some were poorly built, some were badly executed, others suffered from lousy timing.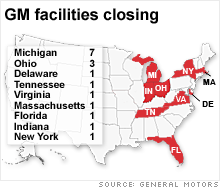 NEW YORK (CNNMoney.com) -- General Motors unveiled plans to close 14 plants and three warehouses Monday in a move that could ultimately slash up to 20,000 workers from its payrolls, as the company undergoes an historic bankruptcy restructuring.
The largest closures include a 3,405-worker assembly facility in Orion, Mich, that makes the popular Chevy Malibu and the Pontiac G6, a 2,671-employee Chevy plant in Spring Hill, Tenn. that used to make Saturns, and a truck plant in Pontiac, Mich. that employs over 1,400 people.
"We had our suspicions, but we had hoped that we were going to remain open, so it's a little bit of a shock," Brian Larkin, an official at United Auto Workers Local 594 in Pontiac, Mich., told CNNRadio. "People are just going to have to see what their options are. Right now, that's not clear."
The Orion, Mich and Spring Hill, Tenn. plants, along with a stamping plant in Pontiac, Mich., are being placed on "standby" status, meaning they could re-open if demand bounces back.
GM said the moves will result in lower fixed costs per vehicle, and lower and more efficient capital investment.
"Our manufacturing operations will emerge even leaner, stronger and more flexible, as part of the New GM, " Gary Cowger, an executive at GM's Global Manufacturing and Labor Relations division, said in a statement.
At least one of the assembly plants on standby will reopen when GM starts building a new small car in the United States, although the company didn't specify which plant.
The closures, which will be phased in over the next few years, will result in GM going from 47 plants currently to 33 by 2012.
Shuttering the factories is part of an unprecedented effort to turn around the once mighty U.S. company that has suffered from overcapacity, high labor costs and vehicle quality issues for years.
Other plants slated for closure include a 1,069-worker assembly plant in Wilmington, Del. that makes soon-to-be-discontinued Pontiac models, as well as stamping facilities in Indianapolis, Ind., and Mansfield, Ohio.
Michigan powertrain facilities in Livonia, Flint and Ypsilanti, as well as Parma, Ohio, and Fredericksburg, Va., are also on the closure list.
Additionally, a powertrain plant in Massena, N.Y., and a stamping plant in Grand Rapids, Mich., will shut down - moves that had been previously announced.
Warehouses in Boston, Jacksonville, Fla., and Columbus, Ohio employing a total of 232 people will also be closed.
GM (GM, Fortune 500) didn't specify how many people will be laid off from each factory, but said between 18,000 and 20,000 workers will ultimately be affected. Over 15,000 people currently work at the facilities that were listed on Monday, according to the GM Web site.
A GM spokesman said all the laid-off employees will receive some type of severance package, although he could not comment on the details.
Lincoln Merrihew, an autos analyst at the market research firm TNS, said the compensation would likely be short term, not a paycheck-for-life type arrangement.
"All indications are that this will be intermittent, a couple of weeks pay for every year at the firm, or something like that," said Merrihew.
He also said he expects Monday's layoffs to account for the lion's share of job losses at GM, although what happens to workers at brands the company is spinning off - like Saturn - is another matter.
The closures are bound to be tough on the towns where these factories are located. Many have few other employment options.
The job losses are also likely to spread beyond GM, as dealerships, parts suppliers and others indirectly dependent on the auto industry feel the pinch.
In Mansfield, Ohio, the manager of a 860-person stamping plant tried to let his employees down easy.
"This decision has not been made because of something that you, plant management, the union, local or state government's have failed to do," the manager wrote in a letter to employees, now posted on CNN affiliate WMFD's Web site. "I want to stress the fact that GM management knows that all of you - the men and women of Mansfield - are proud, hard working people who have dedicated your working lives to building high quality parts for your assembly plants."
The Mansfield plant is set to close next June.

Features

These Fortune 100 employers have at least 350 openings each. What are they looking for in a new hire? More

It would be the world's second-biggest economy. See how big companies' sales stack up against GDP over the past decade. More