Battered auto sales show improvement
U.S. automakers report falling vehicle sales in May that, while still weak, give the industry a glimmer of hope.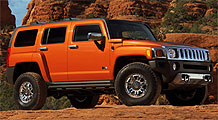 With the carmakers in turmoil, now's the chance for savvy buyers to look for big deals on cars and trucks that typically aren't discounted. Here are a few of the best.
NEW YORK (CNNMoney.com) -- Despite unprecedented turmoil in the auto industry General Motors, Chrysler LLC and Ford Motors all reported auto sales that, while still anemic, were much better than expected.
Overall industry sales tumbled 34% during the month, according to sales tracker Autodata. That's better than the 36.1% decline predicted by Edmunds.com, and it matches the 34% year-over-year drop in April.
GM's market share increased last month, and Ford Motor Co.'s May sales helped it to climb to its highest market share in three years.
In their monthly reports all the major automakers said that they believed economic conditions were improving and that auto sales have largely bottomed out.
"Consumer confidence, a key factor in car buying, rose in May by the most in six years and is now at a level not seen since last September," said Michelle Krebs, of Edmunds.com. "This good news couldn't come soon enough for the auto industry, and the benefits are already coming in for most automakers."
The seasonally adjusted annual sales rate, or SAAR, rose to 9.91 million vehicles, according to Autodata, up from a pace of 9.32 million in April. Sales slipped below 10 million units per year for the first time in 26 years in January.
A Ford executive said it expected a bumpy recovery.
"This is still a very fragile industry," said Ken Czubay, Ford's vice president of sales, on a conference call with reporters. "It won't be a straight line up from here to the end of the year."
General Motors: GM (GMGMQ) said total car and light truck sales fell 29% compared to a year earlier. That was a much narrower decline than the Edmunds.com analysts' forecast of a 36.9% drop and better than the 33% retreat in April.
"May results really do reflect consumer confidence about GM's long term viability across the globe,"said Mike DiGiovanni, head of market research at GM. "May was a good sign, because of all the press we've had to deal with, and the positive sales results give us a good foundation to build on as we reinvent the company."
The May numbers were unadjusted for an extra sales day this year.
Its four brands which will be dropped in a restructuring of the company - Pontiac, Saturn, Saab and Hummer - each reported much bigger sales declines than GM's overall drop, the worst being a 63.5% plunge in Saab sales.
GM announced Tuesday it sold its Hummer line to an undisclosed company. A person with knowledge of the deal told CNNMoney.com GM will sell Hummer to Sichuan Tengzhong Heavy Industrial Machinery Company Ltd. in China.
When it emerges from bankruptcy, GM is expected to continue with its four core brands, Chevrolet, Buick, GMC and Cadillac. Collectively, those brands' sales were up 18% from April to May, compared to 11% month-over-month increase company-wide.
After it drops four of its brands, GM acknowledged that it will likely lose a sliver of its market share. But the company said it believes it will be able to make up some of the lost share with its core brands.
Chrysler: Chrysler, which entered bankruptcy on April 30, also reported better than expected sales in May.
Sales tumbled 47% from May 2008, better than the 53.9% drop forecasted by analysts. Like its rivals, Chrysler also reported the company's best retail sales of 2009.
"We are pleased that consumers responded to Chrysler's reorganization by purchasing our products," said Jim Press, Chrysler president, in a statement. "The uncertainty that has been surrounding Chrysler for the last few months is coming to an end, and a vibrant, new company is beginning to take shape."
Sales were dragged down by fleet vehicles, which are typically sold to businesses or car rental companies. Fleet sales, which accounted for just 5% of Chrysler's total sales last month, compared to 27% a year ago, tumbled 90% after Chrysler halted all fleet vehicle production in May.
Chrysler said Tuesday that those plants will not return to operation until the last week of June.
Retail sales, however, fell just 30%, buoyed by dealer incentives after the company filed Chapter 11.
"In the very unique situation of bankruptcy, the perception was that there are good deals out there, and to a large extent there were," said Steve Landry, Chrysler's vice president of North American sales, on a conference call.
Ford: Ford (F, Fortune 500) reported Tuesday its U.S. auto sales were the highest since July 2008, even as sales fell 24.3% from last year.
Ford's year-over-year sales drop was a narrower than analysts' forecast of a 28.5% drop and much improved over the 32% retreat in April.
Despite flailing competitors, the company said it believed the sales improvement from April to May had more to do with increasing consumer demand than turmoil at GM and Chrysler. Accordingly, Ford said it will begin to raise its production as the company sees sales beginning to pick up, even as its competitors continue to slow or halt production.
Though Ford's car models fell by 25.5%, sales of its mid-sized Fusion model were actually up 9.4% last month, the only Ford brand model that rose from last year. Crossover SUV sales dropped 9%, and traditional SUV sales tanked 37.4%. Overall, Ford truck sales fell 23.4%.
Toyota: Japanese automaker Toyota Motor Corp. said its May sales tanked 40.7% from May 2008, slightly worse than analysts' expectation of a 40.6% decline.
Ford's domestic brands outpaced Toyota's (TM) for the second straight month, making it the second-largest automaker in terms of monthly U.S. sales behind GM.
Still, Toyota, like Ford and GM, reported its highest monthly sales total of 2009. The company cited a "big jump" in consumer confidence in May for the improved month-over-month results.
"We're encouraged that consumers are beginning to return to showrooms and that the industry continues to show signs of stabilization," "said Don Esmond, Toyota's senior vice president of automotive operations, in a statement.
Other automakers: Also Tuesday, rival Japanese automaker Nissan reported May sales fell 33.1%, better than the 35.1% analysts expected.
Honda Motor Co. (HMC) reported sales dropped 41.5% in May, slightly worse than the 39.3% forecasted by analysts, and Hyundai sales fell 20.4%, also a bit worse than expected.

Features

These Fortune 100 employers have at least 350 openings each. What are they looking for in a new hire? More

It would be the world's second-biggest economy. See how big companies' sales stack up against GDP over the past decade. More