Will the GM bankruptcy work?
Some believe GM has finally made the necessary changes to be competitive, but others say there are still plenty of doubts about GM's future.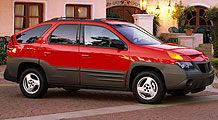 Over its history General Motors has made its share of bad products. Some were poorly built, some were badly executed, others suffered from lousy timing.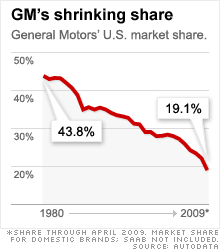 NEW YORK (CNNMoney.com) -- By the time General Motors filed for bankruptcy protection Monday, few in the auto industry doubted that's where the troubled automaker belonged. Whether GM's plan for a quick trip through bankruptcy will be enough to turn around the company is still up for debate.
GM (GMGMQ) will use the bankruptcy process to eliminate $27 billion in debt held by bondholders. Instead, those bondholders will get stock in a reorganized company, as will a union-controlled trust fund that will take stock rather than the $20 billion in cash it had been owed to pay future retiree health care costs. Those 650,000 retirees will have their coverage reduced.
GM will also use bankruptcy to close more than a dozen factories, drop four of its U.S. brands and shut down up to 40% of its network of 6,000 dealerships.
These are hardly the first set of steep cuts at GM, which has already shed about half of its U.S. work force so far this decade. But experts think more work may need to be done to get GM back on track after decades of market share declines and years of financial losses.
"The changes we've seen up to this point have been evolutionary. This will be far more revolutionary," said Tom Libby, president of the Society of Automotive Analysts. "Are they where they need to be on dealers, on brands? No. But they made a major step."
Libby said GM's labor costs are now essentially equal to those of non-union plants operated by its Asian rivals. That's never been the case until now.
David Cole, chairman of the Center for Automotive Research, said GM should now be able to break even with industrywide U.S. sales of about 10 million, just a bit better than current sales levels.
"These sales are now down to Depression volumes," he said. "With break even down at that level, they'll become very profitable, very soon."
Still, some serious challenges remain that can keep GM from becoming profitable in a timely fashion.
The company will continue to pay its active hourly workers the same wages and benefits as guaranteed in the latest UAW contract.
GM will also hold onto two large underfunded pension funds, meaning it likely will be obligated to make additional contributions to those funds in the future.
In addition, GM will be hanging on to many of its less successful dealers until late next year. Even many of the plants slated for closure won't shut down until the end of 2010.
Skeptics say GM needed to make deeper cuts
Many bankruptcy and turnaround efforts argue the automaker should have taken a more aggressive cost-cutting stance in bankruptcy. GM could have asked the court to void the labor contract in order to cut the pay and benefits of hourly workers and slash its network of dealerships immediately.
"It looks more like business as usual than real cost cutting," said Richard Tilton, an analyst with credit research firm Covenant Review.
Tilton said GM should be able to emerge from bankruptcy quickly, as is planned. But he said it will still find itself in a difficult competitive position in a very weak market for auto sales overall, neither of which point to long-term success.
He's also worried that, despite vows from the Obama administration and GM officials to the contrary, more federal help will be required to get GM through this current downturn.
"Their real problem is not how deep their pockets are or the government's pockets. It's the American public's pockets. No one is buying cars right now."
May auto sales were better than expected for GM and the industry overall, although sales were still well below year-ago levels.
Jeffrey Manning, a managing director at investment banking firm Trenwith Securities, which specializes in bankruptcy and restructuring, said he's worried about both GM and Chrysler agreeing to keep their underfunded pension plans in place in order to get the United Auto Workers union to agree to the bankruptcy plan. Many companies use bankruptcy to get out from pension obligations.
GM's pension plans face a deficit of between $12 billion and $13 billion, he estimates.
"You've left these anchors on both businesses," he said. Pushing off financial problems further down the road "is how they got into trouble in the first place" he said.
Troy Clarke, president of GM's North American operations, said the company didn't have the option to push for every possible cost reduction because it needed to have a quick bankruptcy process that had the support of the union and other stakeholders in the company.
"The need for speed drove the thought process, not just how far you can go," he told a group of reporters in a conference call Monday.
Many experts also contended that the Treasury Department would not have been willing to fund a war with the union, workers and retirees. And with the current credit crunch drying up funding typically used by bankrupt companies, the government was the only source for the $50 billion that GM needed to fund its reorganization.
Will GM start making cars people want?
Beyond the difficulty of cutting costs, the biggest problem according to many experts is that GM's long-term decline in market share may be irreversible.
"The fundamental question is whether the demand for their product is going to change as part of this process," said Manning. "I don't think it will."
Even CEO Fritz Henderson conceded Monday that no automaker has achieved a turnaround in its fortunes without improving demand for its cars and trucks. He insisted that GM's vehicle pipeline is strong and will get stronger as the company puts its financial problems behind it.
But others expressed doubts about GM's competitive position, especially with the federal government raising fuel economy standards. GM lags behind its Asian competitors in the production of fuel-efficient vehicles.
"There's too much competition and I don't know if they're ready for this brave new world of 35 mpg," said Stephen Spivey, senior auto analyst for business consultant Frost & Sullivan "Toyota and Honda are already."
But Spivey doesn't have a lot of suggestions for what GM could have done differently in its bankruptcy filing.
"All the steps they took needed to be taken a while back," he said. "There were no good options for them to take today."

Features

These Fortune 100 employers have at least 350 openings each. What are they looking for in a new hire? More

It would be the world's second-biggest economy. See how big companies' sales stack up against GDP over the past decade. More