Ohio reels as NCR moves to Georgia
The ATM manufacturer says it will shutter its Dayton headquarters and relocate to the Peach State.
Photos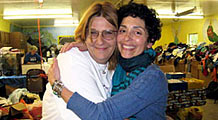 NEW YORK (CNNMoney.com) -- Local politicians were fuming after NCR Corp., Dayton, Ohio's only Fortune 500 company, decided to relocate south taking with it 1,200 badly needed jobs to Georgia.
NCR, which makes ATMs, cash registers and retail self-checkout machines, announced plans Tuesday to move its headquarters to Georgia and create a new manufacturing facility there, leaving a community where it had operated for over 100 years.
Dayton feels the sting: Already suffering a 10.2% unemployment rate, Ohio is struggling with the collapse of the auto industry. General Motors (GM, Fortune 500), which declared bankruptcy Monday, is set to close its Mansfield plant next June.
"This is certainly a big hit to the community because NCR was one of the mainstays of the Dayton economy for 125 years," said Phillip Parker, president of the Dayton Area Chamber of Commerce.
Ohio Lt. Gov. Lee Fisher said he and Gov. Ted Strickland were "extremely disappointed" about NCR's decision to relocate.
Fisher said repeated requests to NCR's senior management to discuss the company's plans went unanswered, and that the state was not given a "meaningful opportunity to negotiate."
Ohio had offered NCR a package of incentives worth about $31 million dollars, Fisher said. He added that Ohio "could have matched or exceeded" the $60 million Georgia put up, if the company had been more willing to communicate.
"This was simply a unilateral decision by senior executives," he said, calling the NCR's disregard for the community in Dayton a "shameless irresponsibility."
For its part, NCR said that the decision was based on a broad range of criteria which included "available workforce, infrastructure, incentives given, the government tax structure and benefits to NCR employees, future employees and stakeholders."
A boon for Georgia: The move, which begins in July, is expected to create 2,000 additional jobs in Georgia, including about 1,250 jobs in Duluth, Ga., where the company already has a substantial presence.
NCR said it will begin recruiting immediately to fill roughly 870 jobs at a new facility in Columbus, Ga., where it will manufacture "advanced ATMs." Some employees will remain in Dayton, but the company's former headquarters will be sold.
The company said it chose Georgia after an "extensive analysis" of potential locations based on the nature of the local workforce, infrastructure, financial incentives and government tax structures.
NCR will invest $30 million in the project, and the annual payroll for the new jobs is expected to top $150 million, according to a statement from the office of Georgia's Gov. Sonny Perdue. This level of investment qualified NCR for about $60 million in tax incentives under the state's newly implemented Mega Job Tax Credit.
NCR said the move to Georgia will, among other things, lower NCR's operating costs and help improve internal collaboration by bringing more employees together in the same place.
"The decision to consolidate functions in Georgia and build a technology focused corporate headquarters campus is right in line with our business strategy to drive growth," said Bill Nuti, NCR's chairman and chief executive, in a statement.
Gov. Perdue cheered NCR's decision to set up shop in his state.
Sam Williams, president of the Metro Atlanta Chamber, said NCR's choice reflects the "business assets" available in the greater Atlanta area.
"NCR joins other corporate giants who have relocated headquarters here such as UPS (UPS, Fortune 500), Georgia-Pacific, Newell-Rubbermaid (NWL, Fortune 500) and GE Energy," he said in a statement.
The region is home to an international airport, cutting-edge research universities, a diverse and educated workforce as well as an excellent quality of life, Williams said.

Features

These Fortune 100 employers have at least 350 openings each. What are they looking for in a new hire? More

It would be the world's second-biggest economy. See how big companies' sales stack up against GDP over the past decade. More