A dragon on the river
An entrepreneur devotes himself to an ancient Chinese sport.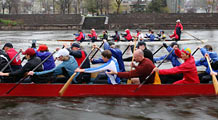 An ancient Chinese sport attracts a diverse crew of hobbyist athletes.
PHILADELPHIA (Fortune Small Business) -- My hotel room is still dark when the phone rings. "It's pretty rainy out there," Ken Wong says. He sounds practically gleeful about this turn of events.
I pull back the curtains and see the empty streets of Philadelphia glistening in a steady downpour. It's 6:45 a.m., half an hour before he's scheduled to pick me up. "Any chance you're ready now?" he asks.
Wong is in a hurry to get to the Schuylkill River for this morning's training session of the Philadelphia Dragon Boat Association, the team he has paddled with for the past eight years. Wong and his teammates have just a month of practice before trials begin to choose the national squad that will race in the 2009 world championships in Prague in August. Thought to be the oldest dragon boat club in the U.S., the Philly team includes some of the best paddlers in the world. Small wonder it has won the national championship for 18 consecutive years. Many of its members, including Wong, were on the U.S. team that captured the last world championship in Sydney, Australia, two years ago.
Five minutes after I hang up the phone, I'm down in the lobby. Wong, 53, is waiting for me, in sneakers and a red Team U.S.A. windbreaker. He exudes a childlike buoyancy despite the graying temples visible below his navy baseball cap and the crow's feet that crease his round face when he grins. He reminds me that this cold, sodden day is a great introduction to what is, after all, a water sport.
"We train in rain, sleet and snow," he says. "It builds character."
We drive in Wong's silver VW Passat to pick up his girlfriend, Angela Juul, 39, an elite paddler who works as a pharmacist. Soon we arrive at the Temple University boathouse, where the team docks its 43-foot dragon boats. Each craft looks like a narrow dugout canoe, with a V-shaped hull and low wooden seats that accommodate 10 paddlers on either side.
A good dragon boat team in action is like synchronized swimming on speed. For a boat this size to move quickly, the blades of all 20 paddlers must hit the water at exactly the same moment. Typically, a drummer -- the coxswain who keeps the team in rhythm -- sits in the boat's bow, facing the oarsmen, while a steersman stands at the other end and deftly guides the 12-foot tiller.
On this raw, wet Saturday, more than 40 people show up at the dock. Like Wong, most of them train four to six mornings a week, launching their boats before dawn. Few things keep them from the water. In the past several years the club has canceled practice only a handful of times, such as when the river flooded over the seawall. During the winter, when the team doesn't practice, Wong lifts weights and does cardio work to stay fit. In the spring he trains solo, perfecting his stroke several days a week in an outrigger canoe.
It's a price he's willing to pay to make it to Prague. Championship-caliber teams in the 200-, 500- and 1,000-meter races reach the finish line in less than one, two and four minutes, respectively. That requires paddling 90 to 130 strokes per minute - more than a stroke per second. The resulting adrenaline rush often proves addictive.
"Once you get the bite of paddling, you just want to excel," says veteran steersman Billy Heffernan, a 48-year-old carpenter known for standing casually at the back of the boat, sipping coffee without spilling a drop. "People do one or two races and get hooked."
That's what happened to Wong, a successful entrepreneur with three small businesses: an $8 million insurance brokerage, a $3 million electrical construction company (modestly named China Power & Light) and a $400,000 consulting firm. Wong, the son of Chinese immigrants, grew up in a tough North Philadelphia neighborhood. "I got in fights every day," he says. That is, until he earned respect by excelling at sports. "It gave me street cred."