On Main Street, little hope and hiring
U.S. employment numbers won't pick up until small companies start growing again.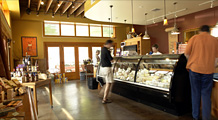 At the end of last year, five business owners struggling through the recession shared their stories of facing a make-or-break holiday season. Here's how they fared.
NEW YORK (CNNMoney.com) -- Signs of economic recovery may be glimmering on the horizon, but you wouldn't know it by looking at the shops on Main Street.
In the past month, small businesses with fewer than 500 employees shed more than four times as many employees as larger businesses did, payroll processor ADP reported Wednesday.
During May, small businesses with fewer than 50 employees saw an employment decline of 209,000 positions, while mid-sized businesses saw a net loss of 223,000 employees. Large businesses with more than 500 employees lost 100,000 workers.
Joel Prakken, chairman of ADP (ADP, Fortune 500) research partner Macroeconomic Advisers, says that signs such as a healthier stock market, modest advances in consumer spending and a rising dollar indicate that the U.S. economy may be rebounding. But Prakken also notes that despite this good news, employment cuts have not hit bottom.
"[Unemployment] will hover until the recovery gains momentum. Small and mid-size businesses will share in the pain," he says. "It will be some time in 2010 when we will start seeing recovery."
Small businesses drive as much as 80% of new-job creation in the U.S., according to government estimates. But with sales down and credit tight, businesses that would typically grow and hire workers are instead cutting staff and struggling to survive.
GiGi Desaulniers of Woonsocket, R.I., has been talking to a lawyer about filing for bankruptcy to prevent her art and framing shop from shuttering completely. GiGi's Global Specialty Art and Gifts, located on Woonsocket's South Main Street, has been open since 2006 but hasn't yet turned a profit. Desaulniers, already in financial straits from a recent divorce, says the down economy has forced her to take on side jobs at night to pay for groceries.
"I'm in crisis mode right now, trying to not lose the business," she says.
When the store first opened, she asked her bank to modify her home mortgage to extend the time she'd have to pay back the loan. That move would have freed up cash to plow into her business. "After three and a half months of getting sent all over the place, I finally got an answer. They refused me because they said I didn't make enough money," Desaulniers says. "Well, why did they think I was asking for it? Now, my sister is paying my mortgage."
Desaulniers instead turned to credit cards to finance her store, but ran into trouble there too when Advanta raised her interest rate to 39%, even though she had never been late on a payment. "They said that because my credit rating had dropped, I was more at risk for making a late payment," she said. "So now I've stopped using credit cards altogether and just pay in cash."
Buying inventory on cash she doesn't have leaves Desaulniers in a predicament -- particularly when she runs into emergency expenses like repairing the car that she depends on for making deliveries.
To expend her revenue streams, Desaulniers opened an art school in her shop in February and has had more than 60 students enroll so far. But after paying for the teachers and other expenses, she's not getting much extra cash from the expansion. She hopes that by September the program will start contributing to paying the store's bills.
Desaulniers sees few relief options available for shops like hers. Banks don't want to lend to struggling businesses, credit card rates are sky-high, and a forthcoming emergency lending program run by the Small Business Administration excludes the riskiest borrowers.
"The ARC loan program sounds great but I'm not a person who can use it because you need to show some profit in one year of the last three," she says. "I can tell them I just started a new thing and can prove I made more money in last three months, but they won't give me a loan on projections, particularly because my credit has gone down the tubes. It's frustrating to work so hard and find that there are just no doors or windows -- just another wall."

To write a note to the editor about this article,
click here
.