Jobs could get run over by auto woes
There are signs that the labor market is slowly improving. But the GM and Chrysler bankruptcies could lead to many more job losses ahead.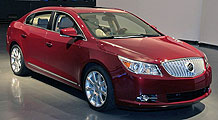 GM is launching a slate of new products. Can they give a lift to the auto giant as it enters a new era?
NEW YORK (CNNMoney.com) -- The last thing the battered U.S. labor market needs are the current problems at GM and Chrysler.
There have been some signs that the job market might be slowly improving. The number of people filing for new jobless benefits has declined for three straight weeks, and both payroll processing firm ADP and outplacement firm Challenger Gray & Christmas reported a reduction in job losses in May.
According to the official labor figures for May released by the government Friday, employers cut another 345,000 jobs last month. That was lower than the loss of 520,000 jobs forecast by economists surveyed by Briefing.com and well below the 741,000 jobs lost in January.
And even though the unemployment hit a 26-year high of 9.4%, many economists are hopeful that January's job losses were the peak.
But the bankruptcies at General Motors (GMGMQ) and Chrysler LLC could put a job recovery in neutral.
"It's another headwind that the labor market doesn't need right now," said David Wyss, chief economist for Standard & Poor's.
The Center for Automotive Research estimates that even if the GM and Chrysler bankruptcy processes go as smoothly as possible, there will be 63,000 permanent job losses this year related to the bankruptcies, followed by another 179,000 next year.
And if GM and Chrysler have trouble emerging from the bankruptcy process, 1.3 million more jobs could be lost this year and an additional 446,000 in 2010, according to the study.
Debra Maranger Menk, one of the authors of the study, said that while things are going well at Chrysler, it is too soon to assume the bankruptcy process will go as planned at GM.
Problems at GM create most of the job losses envisioned in her group's worst case scenario, which includes a prolonged stay in bankruptcy for the company, followed by widespread bankruptcies of GM suppliers and dealerships.
"We were extremely worried that we might have the worst case scenario before the filings; now we're just very worried," Menk said. "I don't think we're taking an easy breath yet."
The estimates from the Center for Automotive Research also include only permanent job losses, not the temporary job cuts caused by Chrysler and GM essentially shutting down most of their assembly lines last month, and cutbacks at suppliers due to those temporary shutdowns.
The study also doesn't include cutbacks at suppliers resulting from those temporary shutdowns, or the slashing of production at rivals such as Ford Motor (F, Fortune 500) and Toyota Motor (TM) due to slumping sales.
Millions of jobs still tied to Detroit
The auto industry doesn't employ as many people as it did during the Big Three's heyday. But even after years of plant closings and downsizing, the industry is still a major source of U.S. jobs.
There are 677,000 people working in auto plants and auto parts plants in the United States, according to the government's April reading. Another 1.1 million work in auto dealerships.
While the 1.7 million working directly for the industry is down 23% in just the last two years, it's still more than employed by many "healthier" industries, such as software development, computers and semiconductor manufacturing or legal services.
In addition, many other industries also depend heavily on the auto business. Tech companies manufacture semiconductors used in car engines, for example. Truckers move parts and finished cars while carpeting companies make interiors for vehicles.
Many of those indirect suppliers will probably not get paid due to the bankruptcy filings, which in turn could result in cutbacks in employment beyond auto plants, according to experts.
One of the biggest concerns is that the job losses in the auto industry could be more permanent than some of the other cyclical job losses in industries such as construction or even banking and finance.
Efforts by GM and Chrysler to drastically cut their capacity and decisions by Toyota and other automakers to pull back on their U.S. expansion plans point to a smaller industry here in the future, even when sales return.
"Once the dust settles, the industry is going to look a lot different," said Gary Janas, vice president of job placement firm Adecco Group North America. "Even when the jobs come back, they're not going to come back to what they were."

Features

These Fortune 100 employers have at least 350 openings each. What are they looking for in a new hire? More

It would be the world's second-biggest economy. See how big companies' sales stack up against GDP over the past decade. More