Team players
At Badger Mining, bosses are called coaches and workers are known as associates. But do semantics matter in the workplace?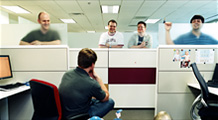 Free beer, generous vacation leave, and a say in company decisions - see how 7 innovative companies are inspiring workers and boosting the bottom line.
(Fortune Small Business) -- When Badger Mining Corporation holds quarterly meetings open to all employees, Curt Talma, who works in the maintenance department, always attends.
"They go through the financials and look at what's coming next. Anyone's free to ask a question or offer a suggestion," explains Talma, 37. "It takes the guess work out of what's next and it makes you proud to be included."
Talma, who's been with the company for over 15 years, thinks so highly of his employer that two years ago he encouraged his wife to seek a job at Badger. Now they both work for the Berlin, Wisc., company and can't imagine working for anyone else.
Quarterly meetings, in which no topic is off limits, are just a part of the progressive benefits package offered by Badger, the fifth largest industrial sand company in the United States. Other benefits include 20% profit sharing for all 170 employees (including management), a 401(k) with up to 6% matching funds, 100% of a health insurance premium and free long- or short-term disability pay.
Can't quit smoking? Badger provides $350 for a tobacco cessation plan. Need a financial planner? Badger offers $200 to hire one. Such investment is expensive in the short-term, admits president Tim Wuest, but well worth it in the long run.
It's a lesson that Badger learned more than once. Originally founded in 1949 by Clifford Chier, the company was renamed Badger Mining Corporation in 1979. After years of intense growth, profits dropped during the recession of 1981-82, forcing management to rethink the way they were doing business.
"When we came out of that, we looked back to see what we could have done differently," explains Wuest. The solution was to remember what made the family-run business special from its earliest days. "We lost touch with the way were treating people," he says. "Chier treated people right -- on a Friday if workers got done early, he'd let them go or he'd take all the employees out for fish."
In 1985 the firm restructured, creating a flat organizational plan with self-directed work teams. Employees are called associates, bosses are known as coaches, and the executives referred to as the advisory team. "We had gotten too top-heavy. We recognized that if we wanted to retain very good associates, we had to provide above average wages and benefits," Wuest says. "We wanted to give people a sense of ownership so that they were part of the success or failure of the company."
That transition wasn't easy. "Some people need way more structure than we were going to provide," Wuest says. "When we spoke to everyone during the transition we'd talk about team concept and how the company was going to be. We have three levels, and people usually advance in the level they're already in. That doesn't work for everyone."
Even for those who were committed to Badger through the changes, the process was challenging. "It took getting used to," says Talma. "You still see it with the new hires. In the beginning it's kind of weird when they want your input."
Donna Flagg, President of The Krysalis Group, a business consulting firm in New York City, says some people may prefer to be given less freedom because it makes them feel more secure, but she adds: "It may just take some longer than others to feel confident enough to engage in that process."
For Badger, the investment in their employees has paid off for the past two decades. "Our benefits affect our bottom line in a positive way," says Wuest. "Turnover is very expensive. When you're constantly training new hires you have problems with productivity and quality of the product."
Now, in the midst of another recession, Badger hasn't cut any benefits or laid anyone off. With a continued effort to empower employees, Badger has offered short-term layoffs on a volunteer basis; as of May 2009, less than 3% of the employees have taken unpaid time off.
"We haven't stepped in and made any layoffs," says Wuest. "We give them the information and they make the decisions."

Talk back: Tell us how your company motivates its staff.

To write a note to the editor about this article,
click here
.