Debt prices lower after jobs report
Yields soar after U.S. loses far fewer jobs in May than in previous month, boosting recovery hopes.
Bailout tracker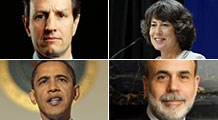 The government is engaged in a far-reaching - and expensive - effort to rescue the economy. Here's how you can keep tabs on the bailouts.
More
NEW YORK (CNNMoney.com) -- Government debt prices sank Friday after a much better-than-expected monthly jobs report and as the market braced for a heavy week of new issues.
The 10-year note was down 1-4/32 to 94, with its yield rising to 3.86% from 3.71% late Thursday. The yield rose as high as 3.88%, the highest level since November, before retreating. Bond prices and yields move in opposite directions.
The 30-year bond slipped 1 to 93-22/32 and its yield rose to 4.65%.
The 2-year note fell 18/32 to 99-8/32 and its yield jumped to 1.27% from 0.98%. The yield on the 3-month was popped up to 0.19% from 0.15%.
Job losses slowed dramatically in May, according to the latest government reading. Employers cut 345,000 jobs from their payrolls in the most recent month, down from the revised 504,000-job decline in April, and much less severe than the 520,000 jobs that economists had forecast.
A recovery in the labor market is critical to a recovery in the economy, the perception of which would send Treasury prices lower.
The jobs report was a stake in the ground for the recovery for one analyst.
"This has been a long time coming, but I am starting to believe that we have turned a REAL corner here and good things are about to happen," said Kevin Giddis, managing director of fixed income sales at Morgan Keegan, in a daily research note.
The recovery in the economy will encourage investors to seek more risk. "The flip side is that Treasury yields are probably going to rise," said Giddis. Demand for Treasurys falls in times of growth, pushing prices lower and yields higher.
There is a downside to rising yields, however, because mortgage rates move in tandem with the benchmark yield.
"This isn't great news for the Fed who has been buying Treasurys in an effort to keep mortgage rates low so those that need to refinance or want to buy a home have the ability to do so," added Giddis.
Meanwhile, a flood of debt supply was also weighing down prices.
As the government has been spending at historic rates to pull the economy out of the recession, it has also had to issue a tremendous volume of debt to fund its efforts.
On Thursday, the Treasury announced the auction of $65 billion in debt next week. The government will sell $35 billion in 3-year notes Tuesday, $19 billion in the reopening of a 10-year note Wednesday, and then $11 billion in the reopening of the 30-year bond Thursday.
Lending rates: One key bank-to-bank was little changed Friday, hovering near a record low.
The 3-month Libor held at 0.63 Friday, nearly even with the day prior, according to Bloomberg.com. The overnight Libor rate was unchanged, holding steady at 0.26%.
Libor, the London Interbank Offered Rate, is a daily average of rates that 16 different banks charge each other to lend money in London. The closely watched benchmark is used to calculate adjustable-rate mortgages. More than $350 trillion in assets are tied to Libor.

Features

These Fortune 100 employers have at least 350 openings each. What are they looking for in a new hire? More

It would be the world's second-biggest economy. See how big companies' sales stack up against GDP over the past decade. More