Oil touches $70, then backs down
Crude futures surge to a 6-month high after a better-than- expected U.S. jobs report, but then retreats.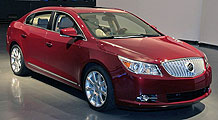 GM is launching a slate of new products. Can they give a lift to the auto giant as it enters a new era?
NEW YORK (CNNMoney.com) -- Oil prices closed lower Friday, after briefly rising to a 6-month high above $70 a barrel, as investors took the government's latest employment report as an indication of the improving health of the U.S. economy.
Prices surged to $70.32 a barrel immediately following the report, but turned lower as the day progressed. Crude ended the session down 37 cents at $68.44 a barrel.
The oil market pays particular attention to the health of U.S. economy, the world's largest consumer of energy.
Job losses slowed dramatically in May, according to the latest government reading on the labor market. May's job losses were the fewest since last September.
The stronger U.S. dollar, thanks to the jobs report, also contributed to oil's retreat. The euro lost 1.4% against the dollar, the pound was down 1% against the dollar and the greenback surged 1.8% against the Japanese yen.
A stronger greenback weighs down the price of oil because the dollar is used as the currency for oil all over the globe, and so when the dollar strengthens, oil becomes more expensive in other currencies.
Also supporting oil prices, Goldman Sachs (GS, Fortune 500) released a research report Thursday raising its 3-month price target for crude oil to $75 a barrel from $52 a barrel. By the end of 2009, the report predicts oil will reach $85 a barrel, up from $65 a barrel. And by the end of 2010, Goldman forecasts that crude will hit $95 a barrel.
"When Goldman Sachs starts to talk bullish the market seems to move like it just got an offer that it just can't refuse," said Phil Flynn, senior market analyst at Alaron Trading, in his daily research note.
Oil prices have nearly doubled since the end of the year. The price of gasoline has been pulled higher, as well.
The national average price for a gallon of regular unleaded gasoline increased to $2.592, up 2 cents from the previous day's price of $2.572 according to motorist group AAA.
In the last 38 days, the average price of gas has increased 54.4 cents per gallon.

Features

These Fortune 100 employers have at least 350 openings each. What are they looking for in a new hire? More

It would be the world's second-biggest economy. See how big companies' sales stack up against GDP over the past decade. More