Clock ticking for Chrysler
Even if Fiat waits for the Supreme Court to rule on Chrysler's bankruptcy, a delay in the sale could cause severe problems for customers and suppliers.
Photos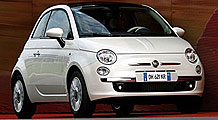 NEW YORK (CNNMoney.com) -- Chrysler finds itself waiting for word from the Supreme Court as to when it can go ahead with its combination with Italian automaker Fiat. According to the company's filings and industry experts, it won't be able to wait too long.
The high court is expected to say in a day or two if it will to hear the case. If the court decides not to hear it, it is expected that a new Chrysler, made up of its more profitable factories and dealerships, would quickly emerge from bankruptcy. That entity would be 20% owned by Fiat.
But if the Supreme Court agrees to take the case, a delay in the sale to Fiat could cause, at a bare minimum, widespread problems for the company's ability to restart operations.
It also could mean an end for the company's chances at survival if Fiat abandoned the deal.
In a filing Tuesday, U.S. Solicitor General Elena Kagan, pointed out that "Fiat will no longer have an obligation to go forward with the transaction as currently structured" if the deal did not close by June 15.
But after the Supreme Court's ruling Monday, Fiat officials told wire services it would not walk away from the deal if Chrysler could no longer meet that deadline.
Fiat did not give a new deadline for when a deal must be completed. But attorneys for the Indiana state pension funds that are seeking to block the company's emergence from bankruptcy, argued in a filing to the Supreme Court Tuesday that there is no need to rush the sale of Chrysler assets to Fiat.
If Fiat were to walk way from the deal due to a long delay, that could be a fatal blow to Chrysler. The U.S. Treasury has ruled that Chrysler is no longer viable as a standalone company and that it needs a partner in order to receive additional federal dollars it needs to continue to operate.
Former Chrysler President Tom LaSorda testified in bankruptcy court last month that the company sought combinations with all of the major global automakers and that Fiat was the only one interested in pursuing a deal.
But even if Fiat continues to pursue a combination with Chrysler, the company probably needs the deal to close within the next month if it is going to be able to reopen as a viable automaker. Chrysler shut most of its operations a few days after its bankruptcy filing and has said that its factories would remain closed until it closed a deal with Fiat.
Filings from the company suggest that Chrysler's parts distribution centers are already close to running out of parts needed by dealerships to perform regular maintenance on Chrysler, Dodge and Jeep vehicles.
In a filing made on April 30, the day Chrysler filed for bankruptcy, Frank Ewasyshyn, executive vice president of manufacturing, estimated that those centers had only about a 28-day supply of "perishable" items like oil filters, wiper blades and bulbs. He added that dealers would not be able to perform basic maintenance once those items ran out.
Ewasyshyn also said repairs, even those covered by warranties, could be at risk once "non-perishable" parts like transmission components and torque converters runs out.
"Once that inventory runs out, the only likely source for such parts is a junk yard," he wrote. "The inability of our dealers to stand behind and service and repair the cars we have sold will greatly injure customers and further devalue our brand names. The longer the sale of assets to Fiat is delayed, the more likely this devastating scenario will occur."
That 28-day period has already expired since the May 4 shutdown of most Chrysler plants. Chrysler spokespeople said Monday they were not aware of dealers or parts centers running out of the necessary parts though.
But if the dealers are able to hold out, the company's suppliers could soon start to run into their own cash crisis. Scott Garberding, Chrysler's chief procurement officer, pointed out in another filing that Chrysler pays its suppliers 45 days after products it orders are delivered. With its factories shut, Chrysler has not made any orders since April 30.
That means suppliers are about to receive their last payment from Chrysler for awhile, possibly leaving suppliers without the cash they'll need to continue operations.
Garberding said numerous Chrysler suppliers nearly ran out of cash in January when Chrysler and General Motors (GMGMQ) shutdown operations due to excess vehicle inventory.
With GM shutting most of its assembly lines this month as it works through its own inventory and bankruptcy process, Garberding said he's concerned that an extended shutdown will soon bring widespread supplier bankruptcies.
"Given the thin margins upon which the suppliers operate, this imbalance between revenue and expenses would be catastrophic for the suppliers' ability to secure adequate capital," he wrote.
Garberding estimated that 13.5% of the company's suppliers are in weak enough financial condition to be classified as at "high risk." And even a single supplier going out of business can halt production on an assembly line.
"Even a brief shutdown of a supplier results in significant problems in restarting," he wrote. "A relaunch of a company after a delayed and indeterminate bankruptcy timeline would increase the risk to suppliers to a point that would cause massive supplier liquidation throughout the industry."
One auto industry consultant who specializes in supplier bankruptcies said most Chrysler suppliers have probably built their plans around the assumption that the company will restart the factories by the end of June. But the delay of even a few weeks at this point could push back the start until late July or even early August.
"If this isn't settled in the next two weeks I would be very worried," the consultant said. "It would cause doubts in the industry about Chrysler's ability to ever come back again."

Features

These Fortune 100 employers have at least 350 openings each. What are they looking for in a new hire? More

It would be the world's second-biggest economy. See how big companies' sales stack up against GDP over the past decade. More