Investors bet on Detroit housing market
Real estate investors are flocking to Motor City for bargain housing prices.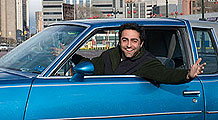 Detroit residents often are asked why they stay. 13 locals answer that question - and reveal their favorite treasures of the Motor City.
NEW YORK (CNNMoney.com) -- As Detroit home prices crash, sales are heating up. But with all of the plant closings and layoffs, who's buying? Investors -- some of whom are snapping up five and 10 houses at a time.
"I have investors from all over the country and the world," said Jeremy Burgess, co-founder of Urban Detroit Wholesalers, which buys undervalued homes to rehab and rent or to sell to other investors. "One Lithuanian woman just bought a second house."
"Most of the local investors are out of money," added Mike Shannon, who specializes in Detroit foreclosures and has clients from New Zealand, Australia, England and other places.
Recently a Californian purchased 178 properties, mostly one at a time, and most for under $10,000. Another has purchased six Detroit properties since September and hopes to begin buying five a month.
"The capital needed to get in the Detroit market is so low," said Jason Imbruglio, a 29-year-old from Tacoma, Wash., who has bought three homes so far.
Two years ago, he paid $12,000 for a two-family house with two bedrooms and a bath in each unit. He spent $18,000 repairing it for a total cost of about $30,000. Imbruglio has kept tenants in both apartments most of the time and charges $1,100 a month. After taking into account the 10% he pays a management company, plus utilities, property taxes and maintenance costs, he says he is making double-digit profits.
Plentiful opportunities
The city's average home price has sunk by a third to less than $80,000. But these cheap houses have got sales jumping, with volume up 23% in April compared with April 2008.
And there is no secret to finding cheap properties. Burgess said he buys through regular sellers and other investors and off the local multiple listing service.
Many are buying in buying in bulk, snapping up properties bundled together and sold by lenders. However, that is becoming less lucrative, according to Burgess. "The quality of the bulk stuff is significantly lower than it was a year ago," he said. "Back them 70% of the houses bought in bulk were nice. Now, 80% or 90% are not."
What he focuses on when selecting properties is the neighborhood. He looks to own in some of the city's stable, blue-collar communities with high homeownership rates, such as Warrendale, University District and Grandmont.
"In the good areas, rents are actually going up," said Burgess. "I just had a house rent for $950 that I was thinking I would get $850 for."
The bad areas, ones with vacant homes and foreclosed properties, such as the Brightmoor district, are no-go zones for Burgess. Rents and values are low in those communities -- and falling.
"I wouldn't touch anything, not even for a dollar, in those areas," he said.
Making it work
In general, Shannon said investors are "looking for long-term investment of five to 10 years. They sock away some profits [on rentals] and wait for prices to appreciate."
To make sure they have a steady rent roll, some investors are getting their properties qualified to be Section 8 housing, which is the housing voucher program run by the federal government to help low-income families. Under this program, some tenants can rent units in private housing with the government picking up part or all of the cost, which must be "fair-market rent."
"You put in a Section 8 tenant and collect $850 to $1,200 a month on a three-bedroom home," said Shannon, who specializes in foreclosure properties.
Another option is to work with local nonprofits to sell rehabbed units to credit-damaged - but worthy - buyers. These organizations identify families and offer them credit-repair counseling and assistance finding an affordable financing so that they can buy the investors' rehabbed properties.
"We shifted away from speculative investing into restoring affordable housing," said investor David Butler, who buys through Burgess.
The deals are often structured like a lease-option contract, with the tenant/buyers paying rent on the property plus a premium charge that is applied to the future sale price. They buyers complete the purchases when they get affordable mortgage loans.
To keep costs down, Butler looks to pay no more than $45,000 for a property, including repairs and any back taxes. When finished these homes typically appraise for about $80,000. Because his company partners with a nonprofit, it accepts narrower margins, about 12%. Normally, buy-rehab-flip investors prefer margins of 35% or more.
Have you applied for a loan modification or refinancing under the Obama administration plan? Did you run into roadbloacks or were you able to avoid foreclosure? E-mail your story to realstories@cnnmoney.com and you could be part of an upcoming article. For the CNNMoney.com Comment Policy, click here.

Features

These Fortune 100 employers have at least 350 openings each. What are they looking for in a new hire? More

It would be the world's second-biggest economy. See how big companies' sales stack up against GDP over the past decade. More